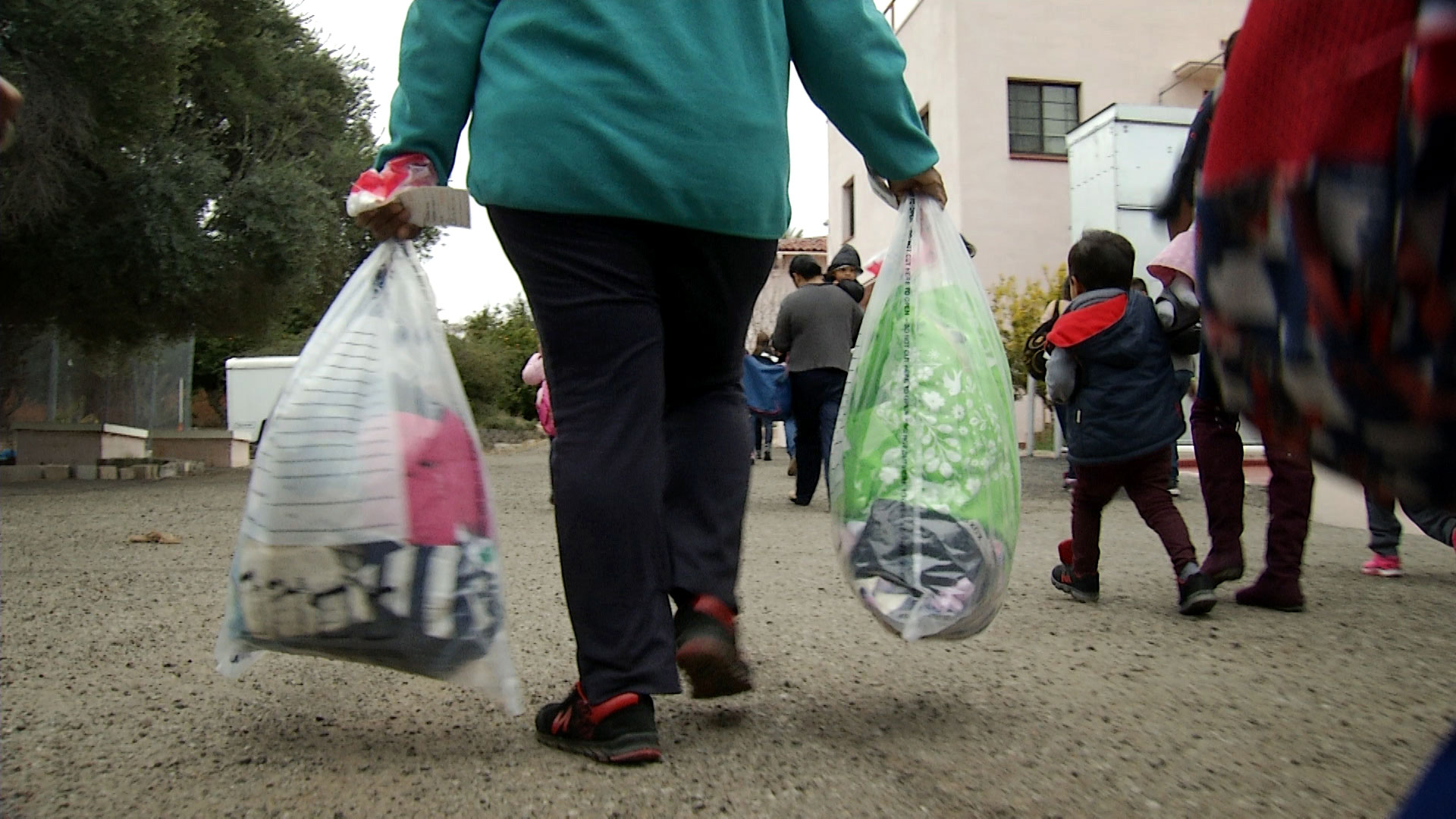 A woman carries her belongings into the Benedictine Monastery shortly after arriving as part of a group of migrants transported by the Department of Homeland Security from El Paso to Tucson on Feb. 21, 2019.
AZPM
The city of Tucson spent $20,000 over the Easter weekend to open an emergency shelter for migrants dropped off by federal officials, according to Tucson Mayor Jonathan Rothschild.
So far neither the state nor the federal government has offered to help offset those costs.
"We have talked to the state and they said to keep a record of expenses as they may appear and so we will see how that goes," said Rothschild.
Whether or not the city opens shelters or not it will have costs related to federal migrant drop-offs.
"It would not be right to leave several hundred people at a closed bus station in the middle of the night with no food or water, small children and no knowledge of our city. Furthermore, providing food and shelter is less costly than having paramedics and police respond to somebody being hit by a car or some other avoidable tragedy," said Rothschild.
Local churches and other community groups are running shelters throughout the Tucson area. Tucson Councilman Steve Kozachik said he is happy the community is involved but local government must also step in.
"You're damn right it is a government responsibility to treat these people as human beings, in maybe the first time in forever," said Kozachik.
The former Benedictine Monastery on Country Club Road is the largest shelter for asylum-seeking migrants in Tucson. It is scheduled to close at the end of July, so local leaders are asking the community to help find new locations and contribute time.
Shelter Volunteers Needed
"This is doable not only because we want to do it, but this is who Tucson is. We are not a community who builds walls, not a community that strings up razor wire. We are a community that lays out the welcome mat because that is who we are and that is who we will be," said Bart Smith, pastor at St. Mark's Presbyterian Church.
The Jewish Federation of Southern Arizona is asking the community for help with a $25,000 challenge grant to help cover the costs of caring for migrants.
Catholic Community Services is spearheading the shelters and looking for more volunteers.