Near the edge of the Grand Canyon, Esha Mehta listens to distant thunder and feels cool rain fall on her face.
"My vision of nature comes from the sounds," Mehta says. "Then I make up what I imagine it to look like."
The Philadelphia native has been blind since birth. But Mehta, 21, bears no grudges. In fact she can't stop smiling. She and nine others have been hiking the Grand Canyon, and they are about to take a rafting trip down the Colorado River.
Mehta and Alex Follo, 16, listen to their peers with sight talk about the layers of rock. The colors. The size.
"They've described it as vast," Alex says. "They've also described it as very, very deep, wide and large. I'm trying to picture it." Alex hopes by the time he's done rafting and hiking 10 miles out of the canyon that he will have an idea of just how vast it is.
Alex uses his cane to navigate the streets of Tampa, Fla., his hometown. But in this unexplored territory, he relies on his guides to get around.
Rory Dunn, 15, is one of those guides. He carries a bell and gives directions on windy, and sometimes steep trails. "We're coming up on an area with a lot of ankle rollers so if you can kind of sweep with your trekking poles," he tells the group. Rory's bright blue eyes meticulously scan the trail for any danger.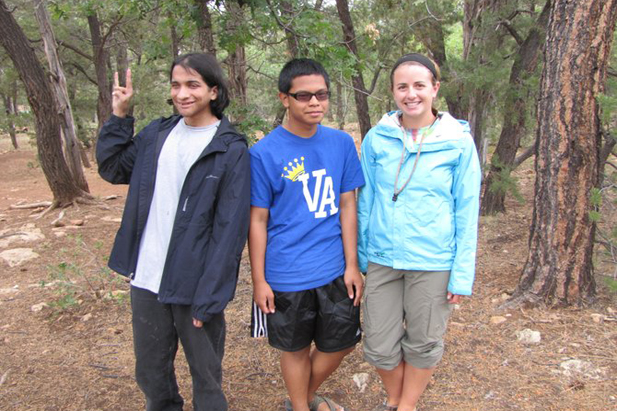 Blind teens Alex "Shade" Calderon (left) and Jeremy Monsanto hike the Grand Canyon with Leading the Way coordinator Shannon Smiley. (PHOTO: Laurel Morales)
The group is part of an expedition developed by Grand Canyon Youth, the National Park Service and Leading the Way, a program led by Eric Weihenmayer, the only blind man to climb Mount Everest. Weihenmayer still climbs and gives motivational speeches like this one posted on his Web site.
"I think there's a blurry line between the things we cannot do and the things that we can," Weihenmayer said. "And the most exciting aspects of our lives is when we're able to become a pioneer and blast through those lines."
That's just what happened for Jeremy Monsanto, 16, who said hiking the Grand Canyon has boosted his self-confidence. "Just because I'm visually impaired does not mean I should let myself down," Jeremy says. "Rather, I should push myself even harder." Just as Weihenmayer did, Jeremy is gradually going blind from a genetic disorder. He said it's like looking through a pin hole. So he's making the most of what little sight he has now.
"Seeing the Grand Canyon was breathtaking. I saw a raven swoop down. You could hear the air move across its wings," he says. "I also saw an eagle for the first time. The landscape was just amazing. When you look at it in a picture it's just a picture but when you're there it's something different."
Jeremy is trying to prepare himself for the day he goes completely blind. He's learning how to read braille and how to use a cane. He's also creating memories like this one at the Grand Canyon that he will cherish in his mind's eye long after he's lost his sight.