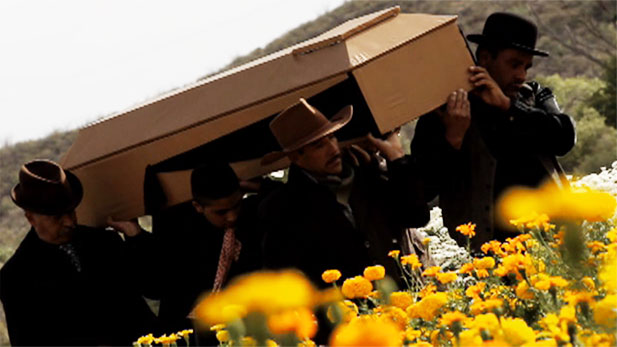 A new documentary explores the cultural role of death along the border.

AZPM
It's difficult to categorize the new film, Flor de Muertos, under any traditional movie genre.
The film features concert footage of the band Calexico recorded during a performance at Tucson's Rialto Theater on the night of the city's unique All Souls Procession. But the film is also a documentary that explores the cultural role of death along the border.

Doug Biggers, one of the producers of the film, says the film began as a simple concert film but quickly evolved into a much bigger idea.
"It's not really a documentary, and it's not a concert film," he says, "It's some sort of hybrid of both."
Joey Burns, front man of Calexico, downplays the band's role in the film. He says what is compelling about the project are the many narratives that are woven in between the songs.

"Flor de Muertos is a true celebration of life and death," he says.

"There are a lot of themes throughout the film," he adds, "along with individual stories of some people that have passed away."

Danny Vinik directed Flor de Muertos. He says the creative process in making the film was fluid and organic.
"The clash of cultures along the border results in a lot of death, so we took a look at that," he says.

Vinik worked closely with editor Jim Rundel in fleshing out various individual stories, and used the marigold as a unifying theme.

"[The marigold] was one of our frameworks," he says.

Vinik says Flor de Muertos has a potential audience outside of the local community, and the hope is to find distribution around the country and abroad. But he notes that the film, in the end, is about the unique border dynamic of this community.

"It's deeply rooted in Tucson," he says. "At times we thought of it as an antidote to all the bad things we were hearing about Tucson. It's kind of a love letter to Tucson saying, 'hey we live in an amazing place here.'"
The Rialto will be screening Flor de Muertos this weekend. You can find complete information here.
The film is a documentary that explores the cultural role of death along the border, and the relationships between people living along an international boundary. (VIDEO: AZPM)