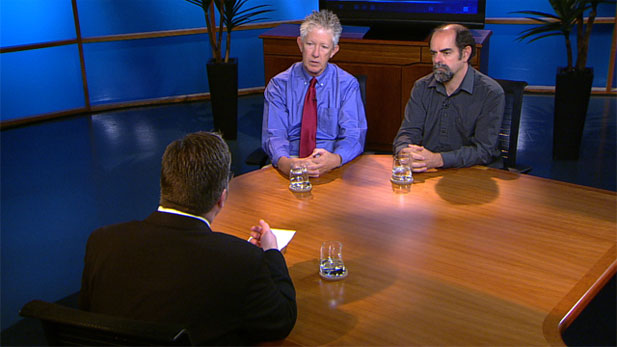 PHOTO: AZPM
David Schaller, of the Southern Arizona Green Chamber of Commerce, and Kieran Suckling, executive director of the Center for Biological Diversity, join the studio.
The Center for Biological Diversity cites among its goals to see that any animal or plant in need of protection for its continued survival receives the designation of "endangered."
Now, because of a groundbreaking new agreement between the controversial environmental organization and the U.S. Fish and Wildlife Service, over 700 imperiled species from around the world are in line to be reviewed for inclusion on the endangered species list by the year 2018.
Kieran Suckling, the Center for Biological Diversity's executive director, and David Schaller, who is a new board member from the Southern Arizona Green Chamber of Commerce, join Arizona Illustrated to discuss how the agreement was brokered and what it will mean for Arizona.
Highlights from among the species that are native Arizona:
Mexican gray wolf: Exterminated from, then reintroduced to the Southwest, the Mexican gray wolf lives in remote forests and mountains along the Arizona/New Mexico border. It is threatened by legal and illegal killing, which has hampered the federal recovery program, keeping the species down to 50 wild animals.
Tucson shovel-nosed snake: A brightly colored snake that uses its nose to swim through sand and feed on scorpions, the Tucson shovel-nosed snake lives in flat desert valleys of Arizona between Tucson and Phoenix. Urban and agricultural sprawl are its main threats.
Rosemont talus snail: The Rosemont talus snail is a terrestrial snail with a coiled, inch-long brown shell that lives in talus slopes in the Santa Rita Mountains outside Tucson, Ariz. The snail is threatened by the proposed Rosemont Copper Mine, a mile-wide open-pit mine that would dump toxic waste onto 3,300 acres of national forest.
Cactus ferruginous pygmy owl: A tiny desert raptor, active in the daytime, the cactus ferruginous pygmy owl lives in southern Arizona and northern Mexico. It is threatened by urban sprawl and nearly extirpated from Arizona.