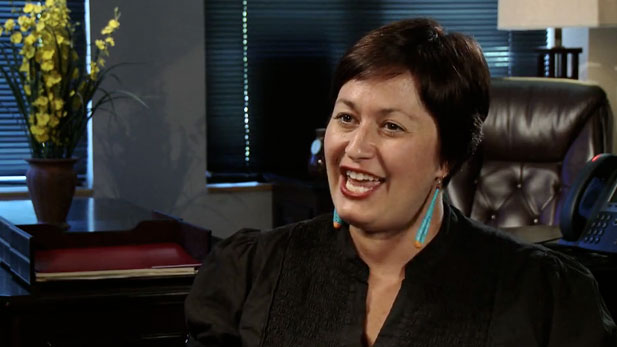 Sara Presler, Mayor of Flagstaff, talks about the economy and tourism in her city. (PHOTO: AZPM)
Flagstaff and the surrounding Coconino County are tops in Arizona for tourism.
That's not to say they bring in more money or provide more jobs than other parts of the state - Phoenix is the big dog there. But Northern Arizona business and political leaders leverage their natural advantages to get the most out of it.
An Arizona Office of Tourism report shows that while most of the rest of the state lagged in tourism revenue growth last year, Coconino County set a record, topping even the total it reached in 2007 before the recession took hold.
Travelers spent $948 million in Coconino County in 2010, 6.2 percent more than in 2009 and 3 percent more than the previous record year of 2007.
In the same year, statewide travel spending was $17.7 billion, which was 7.3 percent lower than the 2007 record total.
Even at the depth of the recession, in 2009, Coconino County saw its tourism spending down 3 percent from what it had been in 2007. Statewide, the total was 14.1 percent lower, and in metropolitan Phoenix, tourism spending was down 16.7 percent in 2009 from 2007, all according to the state Office of Tourism.
Northern Arizona has terrific tourism draws -- the Grand Canyon, Route 66, Native American cultures, the cool ponderosa forests and the mountains. So it stands to reason that in the center of it all, Flagstaff draws a lot of tourism activity. But it isn't just happenstance. The city's political and business leaders work at it, Mayor Sara Presler said.
"The only reason government does better is because businesses are doing better," Presler said. "There's a direct connection, of course, between what's happening in the private sector and how successful government can or should be."
Flagstaff takes its tourism strategy seriously, and it should. Half of the city's sales tax revenues come from tourism spending, Presler said. She said she partners with businesses and stays in regular touch with other entities in the northern part of the state, so they can leverage their advantages together.
"When one of us wins in Northern Arizona, we all win," Presler said. "There's a multiplier effect in us investing from a regional perspective in economic development rather than being so interested in what is happening in Flagstaff proper."
Reporter Michael Chihak explores Northern Arizona's tourism strategies and successes further on Arizona Week. Watch it now.
Tourism (VIDEO: AZPM)