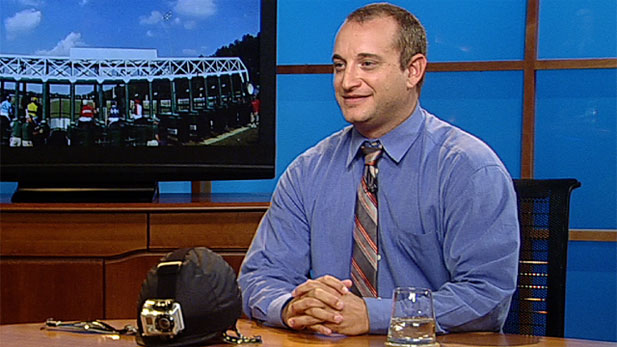 PHOTO: AZPM
Pam White Speaks with Kenleigh Hobby of UA Race Track Industry Program.
Just as a camera inside the cockpit of a NASCAR gives viewers the driver's perspective, two University of Arizona seniors in the UA Race Track Industry Program have come up with a jockey cam that lets fans "Ride the Race."
Kenleigh Hobby and David Matt have launched EquiSight, a helmet camera system designed specifically for horse jockeys. Hobby and Matt have connected with UA engineering students to develop a prototype. They hope the new software will help revitalize the racing industry and attract younger fans.

By experiencing the thrill of racing with the EquiSight Hobby hopes to get the industry out of the "binocular phase." He said there was a gap in horse racing technology and the idea to fill it came from video games, online interaction, and Google Earth.
Recently Hobby was at Colonial Downs in Virginia to test the system. He shares the exciting footage on Arizona Illustrated.