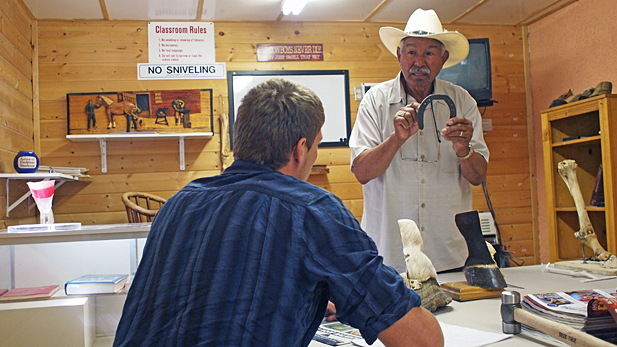 PHOTO: Gisela Telis
George Goode teaches his horseshoeing students everything from equine nutrition and anatomy to blacksmithing basics.
George Goode is on a mission.
The 71-year-old farrier tells anyone who'll listen about how badly poor shoeing practices have hurt the nation's horses. A horse's lameness is its shoer's fault, he says, and "there are two kinds of shoers: those who don't know, and those who don't care."
That's why Goode hosts at least 75 students a year at his Tucson School of Horseshoeing--to help create a new generation of farriers who work with the right knowledge and care.
In Goode's classroom, students learn everything from horse anatomy to the principles of running a business. Along the way, Goode preaches proper horse care.
"Animals have rights too," he tells his students. "Once you captivate them, you're responsible for them."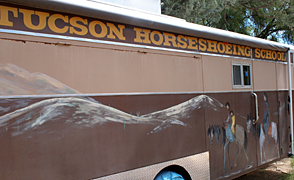 PHOTO: Gisela Telis
The Goodes have operated their horseshoeing school from their Tanque Verde Valley ranch since 1973.
Founded in 1973, Goode's school draws students from all over the U.S. and overseas, all of them eager to learn the farrier trade from one of its masters. Many are lured by the promise of a healthy income--busy farriers can make around $100,000 a year--or because they already own or work with horses. Once admitted to Goode's program, they commit to hundreds of hours of blacksmithing, field work and classroom instruction. The program is challenging, and helps prepare students for what can be a grueling profession.
"You're out in the hot, messing with horses who don't want their feet picked up," says student Matthew Bishop, a 16-year-old horse trainer from Snowflake whose employer urged him to learn farriery as well. "It's hard work. You have to be independent and have a good work ethic."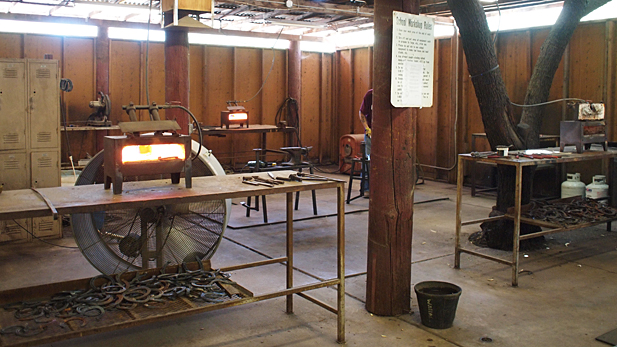 PHOTO: Gisela Telis
Students at the Tucson School of Horseshoeing spend hundreds of hours in the workshop and the field.
Goode's own work ethic stems from a lifelong love of horses. Born in Silver City, N.M. to a family with German, Spanish, Mexican and Native American ancestry, Goode grew up in Tucson working with horses and competing in rodeo. After studying animal science at California Polytechnic State University in San Luis Obispo, Goode set about building a farrier business with a scientific approach.
Instead of "eyeballing" a horseshoe's fit, as many farriers do, he employed--and even invented--tools designed to get an exact fit. A precise fit keeps a horse's bones and musculature correctly aligned, says Goode, preventing arthritis, lameness, and other painful and costly problems he sees in places where good farriery is scarce.
That scarcity plagues the nation's Native American reservations, says Goode, who has traveled to or contacted nearly 200 tribes to raise their awareness of horse care.
"You can tell American Indian horses by their feet," says Goode. "When you can do that, something is wrong."
At its root, the problem is poverty: farriers charge around $100 to trim and shoe a horse's feet, and must do so every five to six weeks. Budgeting for the ongoing cost can seem impossible to low-income families or those struggling with unemployment. Native families, many of whom own multiple horses, often let their horses' feet go in order to keep up with other expenses, Goode says.
To address what he calls "an epidemic of lameness," Goode founded a nonprofit several years ago and reached out to tribal colleges to set up horseshoeing programs there. He even took his portable horseshoeing unit--a small trailer equipped with all the tools of his trade--to reservations to teach clinics free of cost to anyone willing to pass on what they learned.
Ultimately, the schools he contacted and his own nonprofit were unable to secure funding for their efforts.
"There's interest. Every family up there [on the Navajo Reservation], for example, has a kid who would do this program," Goode says. "But the obstacle is the money to do it."
So, for now, Goode is easing up on his mission and focusing on the students who flock to his Tanque Verde Valley ranch. He may return to his fight against animal neglect and abuse on the nation's reservations one day, but in the meantime, he is taking comfort in the fact that he tried.
"Someone told me, 'Don't look at it like you didn't complete your goal, because you tried,'" says Goode. "I did all I could do. I won't hold that against myself."

Arizona Illustrated visited the Tucson School of Horseshoeing in 2008. Click to watch: