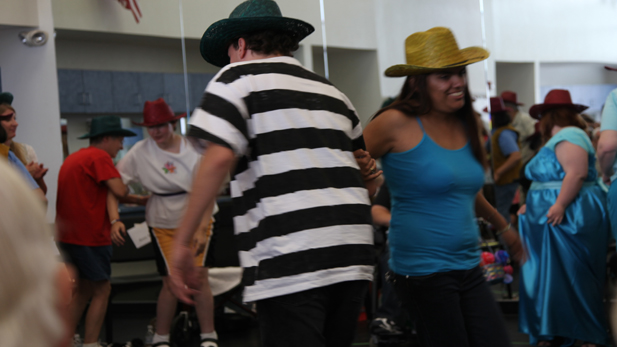 PHOTO: Mark McLemore
Group activities, like square dancing, prove popular with the ArtWorks artists.
The energy in the practice room at the University of Arizona's Stevie Eller Dance Theater was electric on the morning of Thursday, July 28th. A group of about 20 men and women, ranging in age from 23 to 71, were surrounded by an audience of their friends and family, and there were smiles all around.
The gathering was a talent show presented by ArtWorks, a local non-profit celebrating its 23rd year in the Tucson community.
ArtWorks provides all-day art classes for adults with developmental disabilities. It has recently expanded its program to include performing arts like singing and dancing.
As the talent show quickly demonstrated, these new activities are clearly a hit with ArtWorks' artists.
Listen: