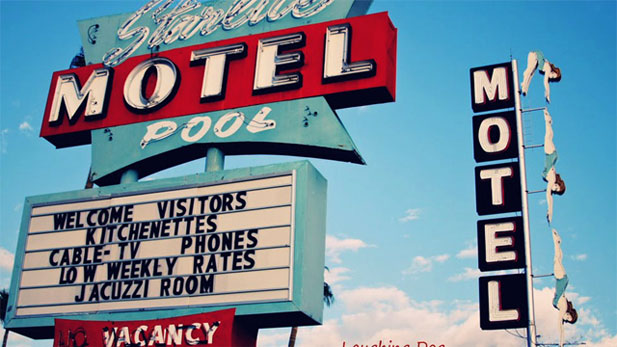 PHOTO: AZPM
The "Mesa Diving Lady" has stood for years in front of the Starlight Motel.
Note: Historian Demion Clinco's "History Moments" do not represent the views or opinions of Arizona Public Media or Arizona Illustrated.
When people think about a historic landmark, they usually conjure up images of a building or a structure. But there are others that have been part of the landscape for decade, attracting passersby with their color and electrifying energy.
We're talking about neon signs, including one that's commonly referred to as "The Mesa Diving Lady."
The animated neon sign served as an advertisement, luring customers to the Starlight Motel in Mesa, Arizona.
"For 50 years, this sign was a Mesa icon, beckoning travelers along Main Street with her aerial aquatic ballet 20 times a minute, 1200 dives an hour," says Demion Clinco, president of the Tucson Historic Preservation Foundation.
A storm in October 2010 caused the sign to blow over, damaging it considerably, but it has since been restored by the Mesa Preservation Foundation. The Mesa Diving Lady is expected to return to the highway sometime soon.