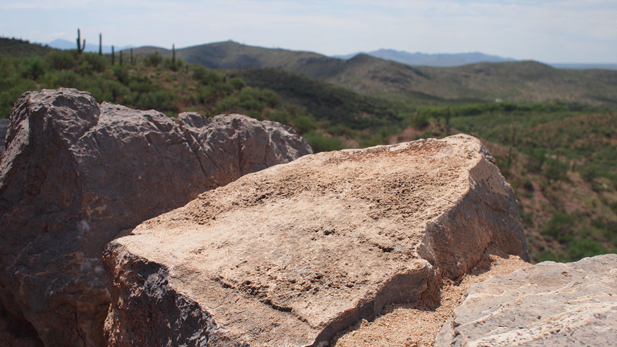 The Depression-era Civilian Conservation Corps left its mark across Southern Arizona. (PHOTO: Gisela Telis)
Though he's nearly 90 years old, Merle Timblin's memories are vivid.
"We bought flour in hundred-pound sacks, and my mother would make them into underwear," he recalls. "There was no money around or growing on trees, I can tell you that."
Timblin was a teenager during the Great Depression, helping his family manage their Pennsylvania farm amid rampant unemployment and poverty. The only reason they didn't go hungry, he says, was that they raised chickens and grew their own food.
Nevertheless, when the local coal mine shut down and Timblin's father lost his job, Timblin had to find work that would pay enough to pitch in for the family's survival. So he signed up for the Civilian Conservation Corps, and soon found himself on a train to Arizona.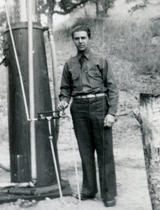 Merle Timblin, now 89 years old, served in CCC camps in Williams and Nogales. (PHOTO: Courtesy of J. J. Lamb)
Launched in 1933 and most often called the "CCC," President Franklin D. Roosevelt's bid to create jobs for a Depression-stricken America put three million young men like Timblin to work in the nation's forests and parks. Almost 37,000 of them came to Arizona.
The buildings, picnic areas and trails they built are still in use in parks across the state, from the Grand Canyon to the Chiricahua National Monument. But the numbers of surviving enrollees are dwindling, and many of the camps where they lived during this pivotal period in the nation's history are unprotected and little-studied. Even CCC alumni and heritage preservation organizations have suffered in this new hard time.
"There were four people at our last quarterly meeting," says Mike Smith, CCC Legacy Arizona chapter president. "In our heyday we were keeping busy with big projects. Now we're almost on life support."
Part of the problem, some experts say, is the CCC's recency.
"There was a long time when features like this--their camps, for example--weren't considered important," says Saguaro National Park archaeologist Ron Beckwith. "Once they were 50 years old, people began to reconsider."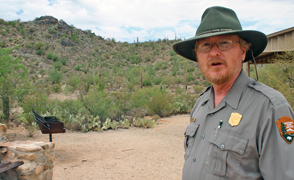 Saguaro National Park archaeologist Ron Beckwith hopes to secure funding to study and preserve the Camp Pima site. (PHOTO: Gisela Telis)
Beckwith is fueling that reconsideration. For the past year, he has documented a CCC site called Camp Pima, where enrollees working in the west side of Saguaro National Park lived from 1933 to 1941. At its height, the camp housed about 200 men aged 17 to 24. As on all other CCC camps, the enrollees lived under quasi-military discipline (the War Department did, after all, house and train them) and were paid $30 per month, $25 of which they had to send home to their families.
After the program's end, barracks and other buildings were often dismantled. At Camp Pima, only the buildings' foundations remain, along with some of the walls of the handful of adobe structures the young men constructed.
Beckwith wants to map the entire site, secure a place for it on the National Historic Register, and turn it into an interpretive site where park visitors can learn more about CCC history.
"The CCC literally changed the landscape," says Beckwith. "The public should know why the CCC was established and what they did here."
Beckwith isn't alone in his passion for preserving the CCC's legacy. Philip Brown, a part-time park ranger and CCC history buff, quips that what started as a passing interest five years ago has "started controlling my life."
"A lot of people don't realize that this is where the 'Greatest Generation' got its start--this is what gave them permission to dream big and think big," says Brown. "I think this is a story worthy of being told."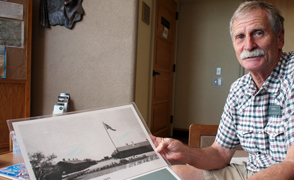 Philip Brown, a part-time park ranger and CCC history buff, holds a photograph of Camp Pima circa 1935. (PHOTO: Gisela Telis)
To keep the story alive, Brown has organized a weekly public program for visitors to Saguaro National Park that highlights the CCC's local impact. All too often, he says, his audience has its own stories to contribute--an uncle or father or grandfather who served in the CCC and recalled it fondly.
Accounts of the New Deal have tended to focus more on large-scale analysis of the program's successes and failures and less on individual stories, and that, says editor and CCC historian Sharon Hunt, has also withered the nation's memory of the CCC.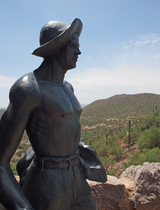 In 2008, Colossal Cave Mountain Park, whose buildings and walkways were built by CCC enrollees, unveiled this statue honoring the program and its alumni. (PHOTO: Gisela Telis)
"A lot of the time, history is told by government agencies, by the people in power, the people in control," says Hunt. "It's not told by the people who lived the history."
So she has collected newspaper articles the enrollees wrote while at the camps--each camp had its own newspaper, written and produced by the crew members--chronicling their time there.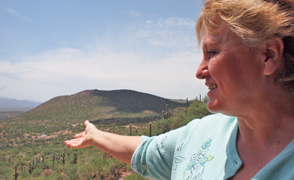 Historian J. J. Lamb has collected artifacts, documents and extensive oral histories to chronicle Arizona's CCC experience. (PHOTO: Gisela Telis)
J. J. Lamb, a trained historian and the former education director and museum coordinator for Colossal Cave Mountain Park, has helped collect some of the oral histories of CCC alumni.
"The human side is what's compelling," she says. "For every one of those guys, the CCC completely changed their lives. It restored their faith in themselves."
The oral histories she has preserved include Merle Timblin's story.
Alongside fellow farm boys and city boys who "had no idea what end of the horse to put the bridle on," Timblin reported to work in Williams during the summer and Nogales during the winter. Because he was one of few who had a driver's license and driving experience, he was assigned to drive the trucks that hauled the crews and equipment out to their work sites.
"We got three meals a day, showers, clothes," Timblin recalls. "Everything you could want, we had."
In the evenings, CCC enrollees had access to educational programs. Although they were not mandatory, most took advantage of the courses. The weekends found them playing on sports teams or rolling into town for local dances. Despite the fact that most enrollees had never ventured so far from home, and that regional and cultural differences divided them, they found adventure and camaraderie together.
"I got to see country I would not have seen, got to meet people I would not have met, got to help my family and drive truck over all kinds of terrain," says Timblin, who now lives in Texas. "It was one of the best things that ever happened to me in my life."
See our slideshow, The CCC in Southern Arizona:
More about the CCC from PBS's AMERICAN EXPERIENCE