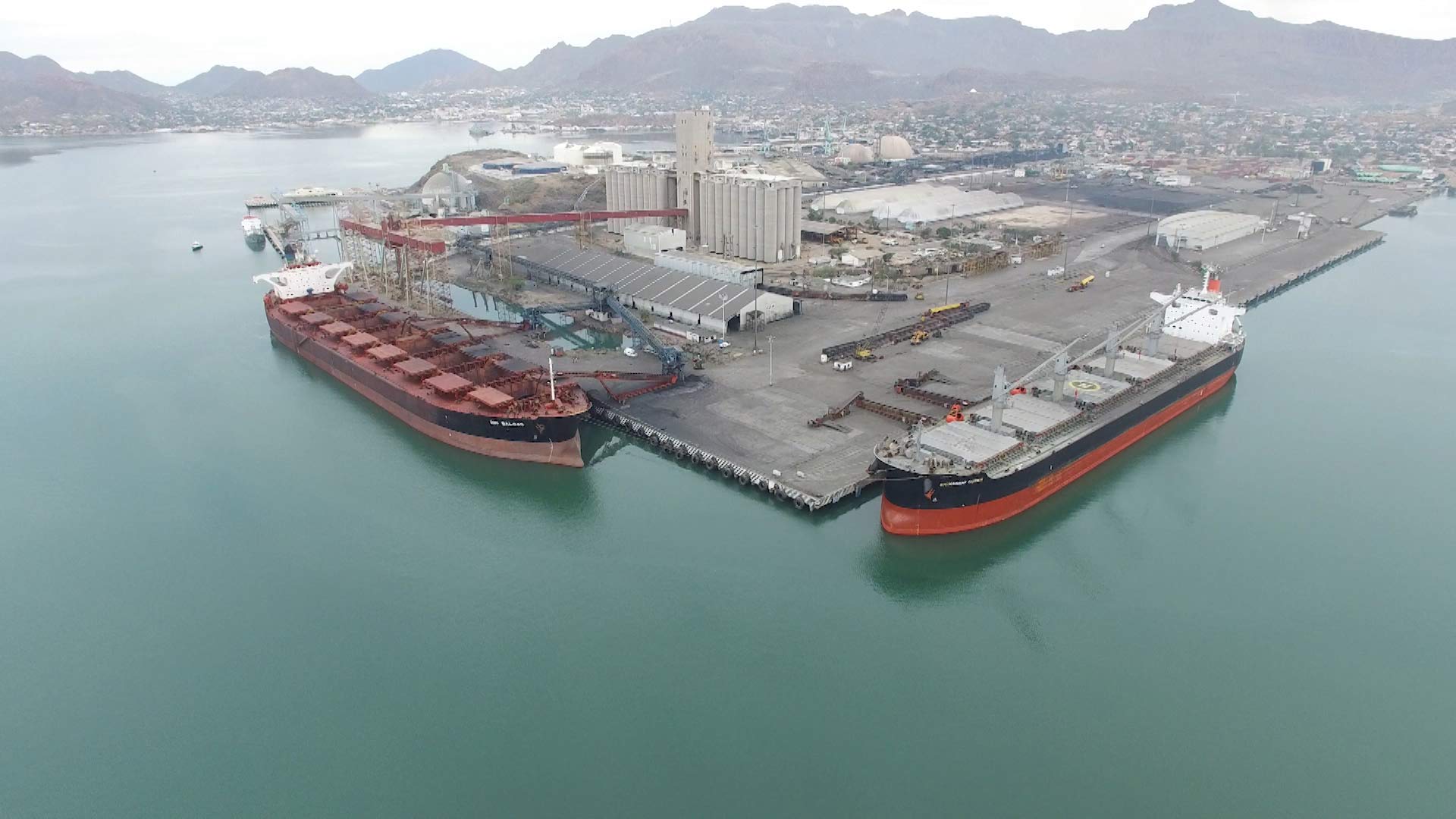 The Port of Guaymas, Mexico.
Courtesy Port Authority of Guaymas
Mexico's largest mining company, Grupo México, spilled about 3,000 liters of sulfuric acid into the Sea of Cortez on Tuesday.
The leak started around 3 p.m. when a valve connecting two hoses failed as ships were being loaded with the acid at the company's facility in the Port of Guaymas.
"There were no injuries, no one was harmed," said Port Director Abraham Larios, adding that Mexican environmental authorities were contacted immediately.
Grupo México said in a news release that employees closed the valves and started pumping the acid back in to tanks within minutes. But some of the acid had already flowed into the sea.
On Thursday morning, Mexican President Andrés Manuel López Obrador said the incident is being investigated.
"The Environmental Ministry is attending the case to evaluate any damage, but it's a fact that there was a spill," he said.
Fuga de ácido sulfúrico de GrupoMéxico en Apiguay, se chingaron los ríos, van por los mares... @ctrl_alt_suprim @elalbertomedina pic.twitter.com/NQlJzueAP0

— el basilio (@elbasiliogmas) July 10, 2019
Jaqueline Garcia, a researcher with the Center for Research on Food and Development (CIAD) in Guaymas, said the impacts of this spill were minimal. She said researchers found about 10 dead fish in the area, but pH levels in the water were normal.
She said she hopes the spill is it a "wake-up call" for Grupo México.
"This could happen in a major scale and we need to be prepared," she said. "I think with the attention we have now with this spill, it's a good call for Grupo México to pay attention."
This week's acid leak comes almost five years after the mining company was responsible for spilling 40,000 cubic meters of copper sulfate acid into Sonoran waterways in the Rio Sonora in August 2014. That spill is considered one of the worst environmental disasters in Mexican history. Local residents are still feeling the effects of the damage.
En la Terminal Marítima de Guaymas se presentó un evento que ocasionó el vertido de ácido sulfúrico que ocasionó la liberación de 3 (tres) m3. Se aplicaron de inmediato medidas de atención y la situación se controló rápidamente. pic.twitter.com/6ePgl4zyTu

— Grupo México (@GMexico_oficial) July 10, 2019