A University of Arizona researcher is working with the Arizona Department of Health Services, trying to determine why there's an increase in the number of parents who don't vaccinate their children.

Arizona is one of several states allowing parents to opt out of immunizations for their children, based on personal beliefs. The number choosing to do that has more than tripled in the past decade in the state, says Dr. Kacey Ernst, assistant professor and epidemiologist in UA's Mel and Enid Zuckerman College of Public Health.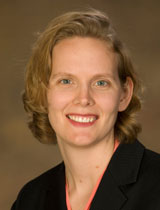 PHOTO: University of Arizona
Kacey Ernst, an epidemiologist at UA's Mel and Enid Zuckerman College of Public Health, is exploring Arizona's drop in vaccinations.
Part of Ernst's research, along with that from the Arizona Department of Health Services, is to figure out exactly why the vaccination rate is going down.

"One of the things that is well known is that the onset and recognition of things like autism occur around the same time that childhood immunizations are given," she says. "So, there's this time overlap between when autism is diagnosed and when vaccinations are given that I think there's a lot of parents that are searching for answers and, you know, that is what they pinpoint as the reason. But, there has been no good scientific evidence at all that has pointed out that there is a correlation."
One parent who doesn't immunize her child anymore is Emilia, who doesn't want us to use her last name. Despite what Ernst says, Emilia is convinced vaccines contributed to her son's autism.

"My child significantly changed after receiving four vaccines, right at the age of one," she says. "After receiving the fourth vaccine, a very unhappy child, and within a three-week period severely changed on me, neurologically, medically, everything about him."
While the controversy over immunizations continues, Ernst is still urging parents to vaccinate their children, saying the benefits far outweigh the risks. A study identifying schools in Arizona where vaccination opt-outs are high is expected to be completed next year.