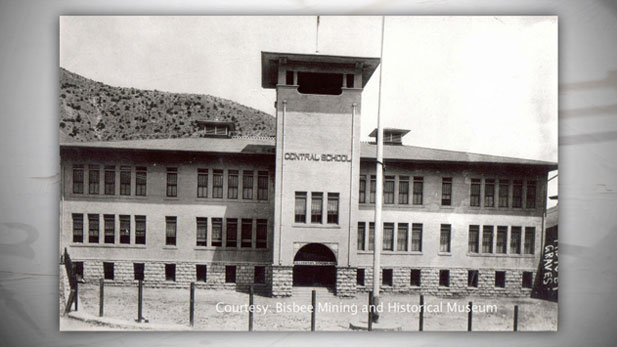 PHOTO: AZPM
Historic Bisbee Central School now houses local artists, non-profit organizations.
A work of art itself, the Bisbee Central School Project has become a haven for artists in the mountainside former mining community.
The school, built in 1905 in a renaissance revival style, is still committed to its community's future, as a vehicle for creating and presenting art. For 70 years the school served as the primary school in the Bisbee Unified School District.
"In addition to its role as a school, at different times the building acted as the community library, the Bisbee Unified School District offices, and a World War II ration distribution center," says Demion Clinco, president of the Tucson Historic Preservation Foundation.
Artists who were being attracted to Bisbee decided to make the school their new hub. Today the Central School has been transformed in to 20 studio spaces available for artists, and an additional two spaces for local non-profit organizations.
Preservation work, under a $820,000 plan, is under way on the building.