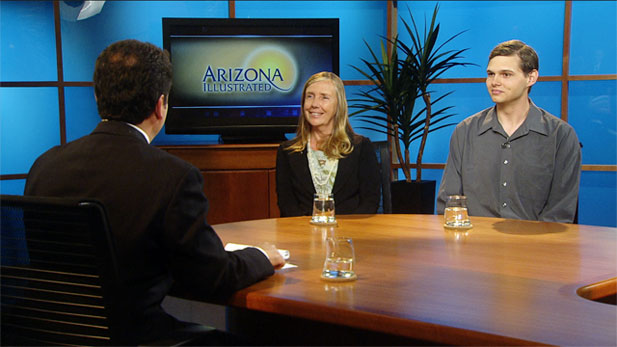 PHOTO: AZPM
Patricia Deridder, president of the Alliance Francaise of Tucson, and Alliance volunteer Christopher Moller share their experiences with French language and culture.
The Alliance Française of Tucson is one of hundreds of chapters around the world promoting the culture and language of France and other francophone countries.

Tucson's chapter has been around since the 1950s, but was officially founded in 1973. It has grown steadily over the years and now offers multiple programs, such as language classes, films and cultural gatherings. Members moved to a permanent location a few months ago, occupying a building on Alvernon Way that was formerly used by another organization.
Patricia Deridder is the Alliance's president in Tucson and she says studying and learning another language is a great way to break down cultural barriers and increase understanding. Volunteer Christopher Moller agrees. He learned French as a second language and has been able to use it in social and professional settings, including an opportunity to teach English in France. Both share their experiences in this interview with Arizona Illustrated.
The group is holding an open house on Saturday, August 27th beginning at 2:30 pm, and members of the public, regardless of their linguistic abilities, are encouraged to attend.
Deridder says her goal is to increase the organization's presence and participation in many facets of the community.