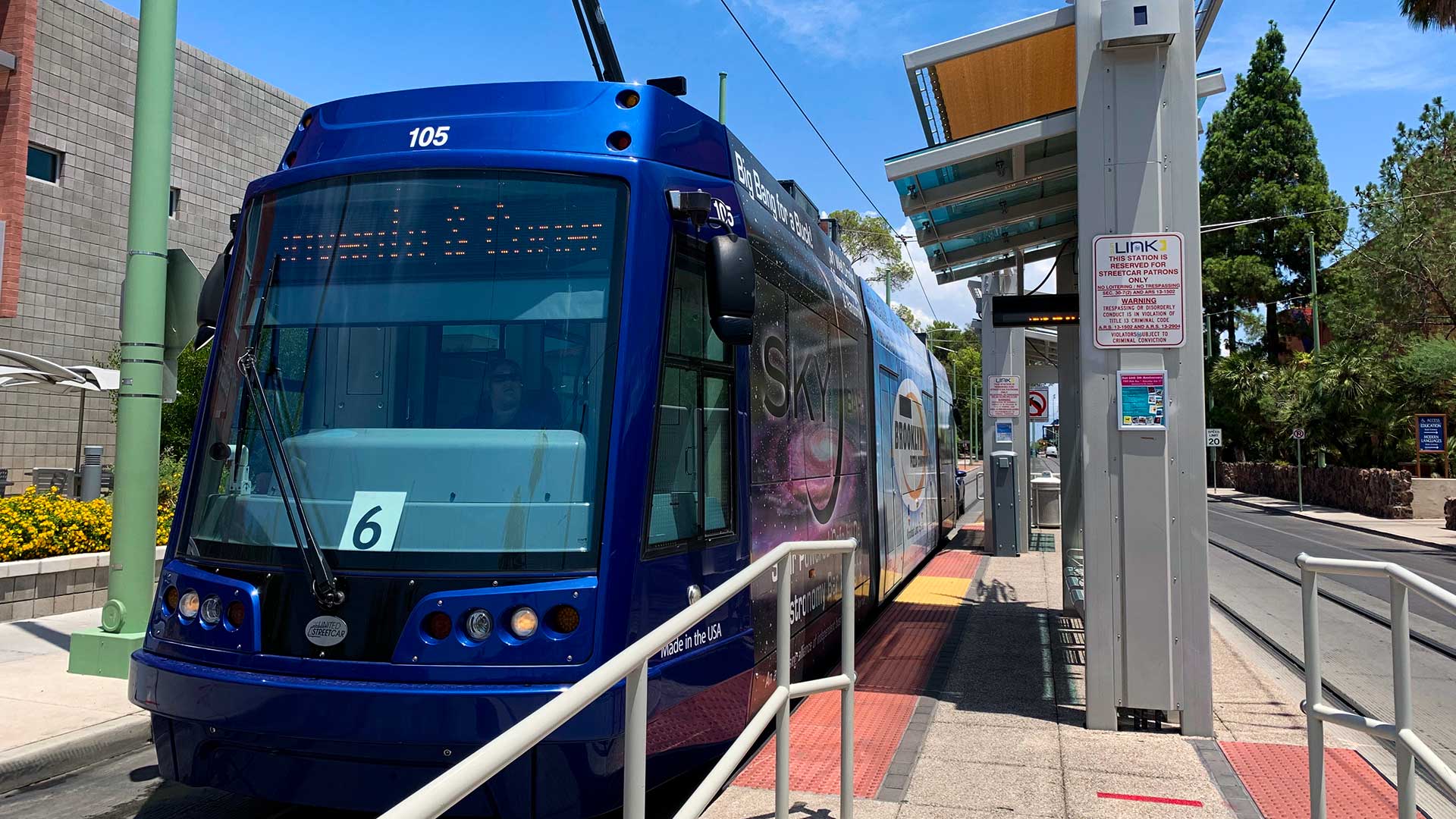 The streetcar at a University of Arizona stop.
Monika Damron/AZPM
It's been five years since the Sun Link streetcar started running, and the Tucsonans riding it on a recent summer day say it has changed the city in some ways.
"I can usually leave my car in the garage on campus and then use the streetcar to access the things I do during and after work without having to move my car or deal with traffic," said Lisa Fahey, an employee at the University of Arizona's College of Engineering, while riding the streetcar around town.
The Sun Link streetcar follows a 3.9-mile route linking the UA, Main Gate Square, Fourth Avenue, downtown and the historic west side.
UA students and those who work near or on campus say they are grateful for the route.
"[It's] very helpful, especially walking around when it's really hot outside. It's refreshing with the AC," said soon-to-be UA freshman, Rita Lopez, using the streetcar to escape the heat. She is already seeing its necessity.
"I'll be using this a lot throughout the next four years," she said.
For others, the streetcar has been a great addition to the city's growth.
"I think just overall, in general, downtown has been growing, and I think the streetcar has had a role to play in that," said Tucsonan Bryan Rosenbaum.
Rosenbaum doesn't usually use the streetcar, but on this day, he was excited to leave his car and travel from downtown to the university during lunchtime. He thinks the city growth is great to see.
Fahey also sees the role the streetcar plays with local businesses.
"You see a more positive attitude with the local businesses because the streetcar has been able to give people access to everything from university, Fourth Avenue, and downtown," she said.
The riders' only hopes are that one day the streetcar's route will extend even further.
"I live on the northeast side of town, so I sometimes wish the streetcar went a little further east or north," said Fahey.
She suggests the city build a park-and-ride locations, or even have the streetcar route pass by some of the malls.
During his daily ride, Michael Beisch, a Tucsonan since 1980, said one could only hope that the city expands the light rail system.
"The thing I've noticed is a lot of people when they first come to Tucson they get on the light rail … it's comfortable and it's really a nice conveyance," he said.
Saturday, July 27, Sun Link will be celebrating the streetcar's 5-year anniversary with an all-day celebration.

Rio Nuevo will sponsor free rides on Sun Link from 8 a.m. to 2 a.m.
Free events will also be held along the streetcar route, including brunch at the Mercado District, Sun Link tours, a Fourth Avenue block party, story time at the UA Bookstore and a concert at Main Gate Square.
See the schedule below:
8:00 a.m. - 2:00 a.m. free rides, sponsored by Rio Nuevo District


9:30 a.m. - 11:00 a.m. 
Brunch at Mercado San Agustin
. Acoustic performance by Natty & the Sunset


11:00 a.m.
 Sun Link Tour
, Board at Mercado District (Avenida del Convento/Congress St.)


11:30 a.m. - 1:30 p.m.
 Sun Link Party (8th St. at 4th Ave.)
- DJ Alias (Spencer Brummer)
- Dusty the Roadrunner (Tucson Roadrunners)
- Arizona Avengers
- Story time w/ Luz on streetcar - Pigeon & Daniel Tiger
- Tour the Old Pueblo Trolley


2:00 p.m. - 3:30 p.m. 
UA BookStores (south of 2nd/Highland stop) & University of Arizona Parking & Transportation Services present crafts & story time with Pete the Cat
. Special appearance from Wilbur Wildcat & The University of Arizona Cheerleaders and Mascots
5:00 p.m.- 7:30 p.m.
 Main Gate Square
, 2-EEE the Clown & Friends face painting & balloon artist (FREE)

6:00 p.m. - Autumn Celia Dominguez Quintet at Gentle Ben's
---
Monika Damron is a University of Arizona journalism student and an Arizona Public Media intern.