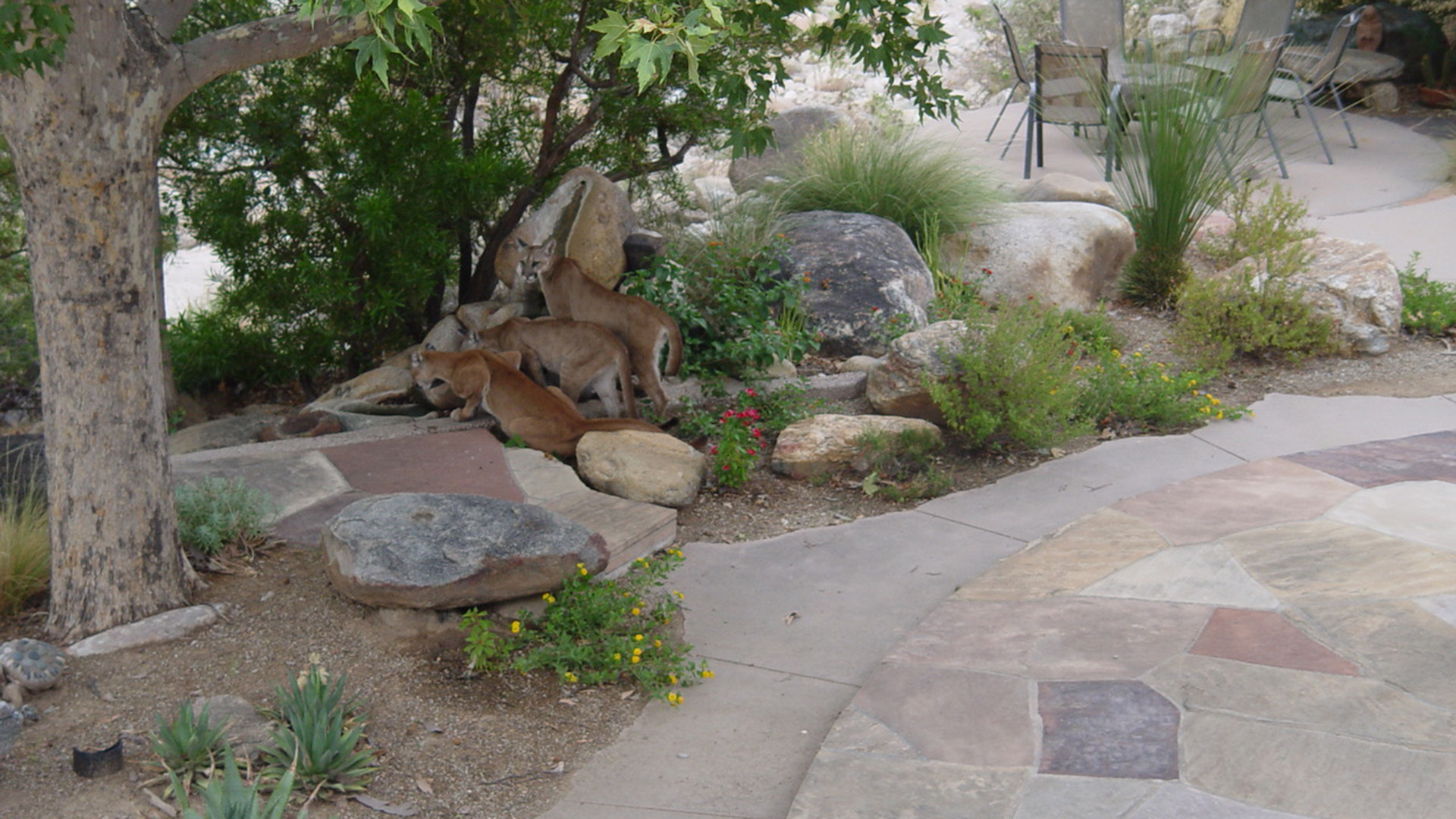 Three mountain lions spotted in a yard along Sabino Creek, Wednesday, July 24, 2019.
Courtesy Terry DeWald
A couple living along Sabino Creek received a surprise Wednesday morning when they found three mountain lions drinking from their artesian well.
Mark Hart, spokesman for Arizona Game and Fish Tucson, said his organization usually gets 80 to 100 calls a year concerning mountain lions. He said most of these calls are sightings, some turn out to be bobcats, but few are actually high-risk situations. Hart said there have been six mountain lion attacks in Arizona since 1988, and there has never been a fatal attack in the state's history.
Regardless, Hart said the public should call Arizona Game and Fish when they see a mountain lion, especially if it's in a human-populated area.
"If we have a lion that's persisting in human-occupied areas, we want to know," said Hart. "Now, it's tough to differentiate between those calls, but a pattern of sightings in one particular neighborhood would lead us to believe there's a lion there. He's persisting — he's not moving back to the natural environment."
Arizona Game and Fish speculated in a tweet that Wednesday's mountain lions did go back into Sabino Canyon along the creek after their water break.
A female mountain lion and her two youngsters drinking overflow from an artesian well this week in a backyard so. of Sabino Canyon Rec. Area. They then cleared the area, likely returning to the canyon by way of Sabino Creek. Report such sighting to 623-236-7201. By Terry DeWald. pic.twitter.com/Wvf3ZvUYhZ

— AZ Game & Fish Dept (@azgfdTucson) July 25, 2019
Hart said that if you are confronted by a mountain lion, stand tall, yell, wave your arms and throw things at it.
"You want to get the mountain lion to think that you're more dangerous to it than it is to you," said Hart. "And even if you are attacked, you should fight back."
He said these types of behaviors signal that you are a human and not prey. Do not run away, but instead back away slowly while maintaining eye-contact with the animal. He reminds people this usually means taking off a pair of sunglasses.
If you see a mountain lion in your yard, Hart suggested you leave it be and watch it from inside the house.