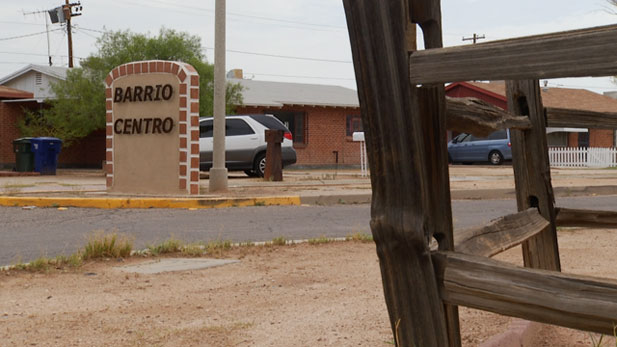 PHOTO: AZPM
PRO Neighborhoods offers annual grants from $500 to $5,000 to help neighborhoods organize and build associations.
Barrio Centro is a midtown Tucson neighborhood that was originally built around the burgeoning Union Pacific Railroad.

Germán Quiroga is a long time resident of the close-knit community and chairman of the Barrio Centro Neighborhood Association.
Quiroga says Barrio Centro, like many neighborhoods in Tucson, has been struggling with the problem of graffiti. "It's our youth crying out, wanting to express themselves," he says.
The neighborhood association hit upon the idea of a mural to bring together members of the community, artists, educators and local business leaders. The Barrio Centro Neighborhood Mural, as it is known, helped create a neighborhood identity, and engage youth in a meaningful art project.
Diana Olivares, a community organizer with the local non-profit PRO Neighborhoods, says the 17-year-old organization offers funding and assistance for groups working together to mobilized and build upon existing talents and resources within the community.
She says the Barrio Centro Community Mural project was awarded a grant of $3,000. The project, she adds, was intendeed to beautify the neighborhood, engage youth and bring the community together .

Olivares says "art work is a good way of engaging people," and addressing the problem of graffiti. She says the mural is typical of the grass-roots initiatives that receive funding from PRO Neighborhoods.

Linda Duran, senior community organizer at PRO Neighborhoods, says the organization supports Pima County neighbors who work together to achieve a common vision.
"PRO Neighborhoods started as an experiment," Duran says. It provides seed money for hundreds of projects, and she says "anything a neighborhood wants to do to better their community we will fund, as long it's grass-roots community work."

For Barrio Centro's Quiroga, the help provided from PRO Neighborhoods served as a catalyst for a community development project that has ultimately led to the hope of bigger collaborations at Barrio Centro.

"That's the beauty of PRO Neighborhoods," Quiroga says. "They're good at finding assets in our community and getting people talking together."