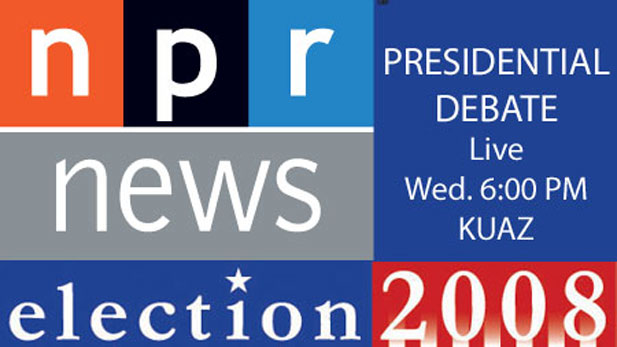 Linda Wertheimer will host the debate special. The first 90 minutes will be uninterrupted coverage of the debate followed with 30 minutes of analysis hosted by NPR's Linda Wertheimer and led by NPR's Supervising Senior Washington Editor Ron Elving and other regular NPR political contributors. This segment will also include fact checking by a team of NPR reporters and editors.

Third Presidential Debate
Wednesday, October 15 Hofstra University, Hempstead, N.Y. Moderator: Bob Schieffer CBS News Chief Washington Correspondent, and Host, Face the Nation NPR will follow each of the debates with "NPR's National Listening Party" at 8:00 p.m., Arizona time. This live, hour-long, call-in program, will be a chance for listeners from around the country to share their views on the candidates and that night's debate.

Listening Party
At 8:00 p.m. Arizona time, Neal Conan and NPR's talk crew host a live call-in show for listeners to weigh in with their opinions of the debate.