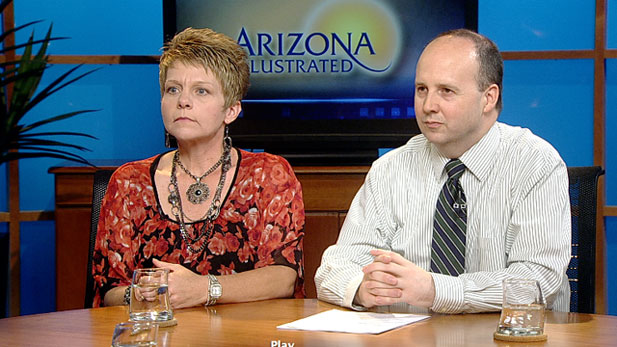 Billie Sue Morelli, Worksite Wellness program leader and Don Gates, Pima County program manager give an an update on the county's federal grant to reduce obesity. (PHOTO: AZPM)
The key to reducing obesity rates in Pima County is not just to educate children and adults on healthy lifestyles, but to get them to change their behavior. That's the mindset Don Gates is keeping as he manages a nearly $16 million federal grant to make Pima County residents healthier. The grant is part of a national program to prevent obesity in America.
The grant is helping start programs at schools, the community food bank and workplaces throughout the community. Pima County received the award in the spring of 2010 and it's scheduled to last two years.
Billie Sue Morelli is leading a workplace wellness program at Metro Water District. The program there included a health fair and a step challenge with pedometers to measure how far employees walk a day. The company also made other changes, such as offering a fruit basket for snacks as an alternative to vending machine fare, which can be convenient, but not necessarily healthy.
As a member of the program, Morelli says she's lost more than 100 pounds incorporating what she's learned at work into the rest of her lifestyle.
The benefits go beyond the obvious. Gates says the United States spends $147 billion on obesity-related health care expenses, so prevention programs could prove to be economically important.
Andrea Kelly interviews a county health employee to get an update on the county's federal grant to reduce obesity here. Joining them is someone who has participated in one of the prevention programs. (VIDEO: AZPM)