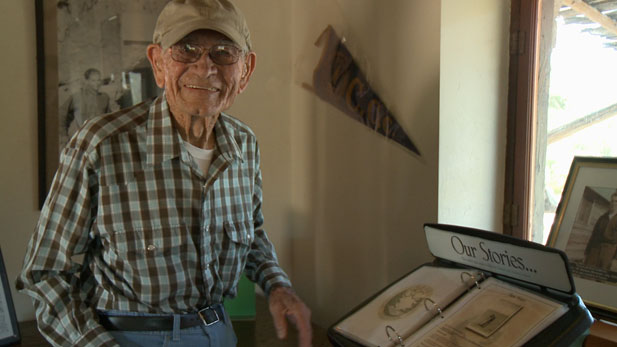 Out of the economic chaos of the Great Depression emerged the Civilian Conservation Corps (CCC), which forever changed both the country and the young men who enrolled. (PHOTO: AZPM)
Elson Alvarez was only 19 years old when he joined the Civilian Conservation Corps in 1936. He was stationed in St. David, Arizona, where he eventually was promoted to assistant camp engineer.

"The reason I joined the CCC was because of the Great Depression," Alvarez says.
His family, like many throughout America at the time, was struggling to survive the Depression, and he saw the CCC as the only way to further his education and help provide for their needs.

Basic pay for an enlistee was $30 a month -- which Alvarez says was a nice sum of money for a young man at the time -- and the motivation to move up the ranks was strong.

"If you start working hard, you know, you learn a lot of things," Alvarez says, "then you could become assistant engineer, which was $36 a month."
Twenty-five dollars of an enlistee's pay went directly to the family.
"At that time everything was so cheap, that $25 would go a long way," Alvarez says. "I was very happy I could help take care of my siblings for five and a half years."

J.J. Lamb is an historian and preservationist who has documented the history of the CCC in Arizona through photographs, slides, letters, and oral histories. She says the CCC is one of the more successful components of the New Deal-–FDR's master plan for economic recovery.
"It was an incredible boon to the national infrastructure," Lamb says, "and much of that infrastructure is still in use today."
Martie Maierhauser is the director of Colossal Cave Mountain Park. She says the park owes a tremendous debt of gratitude to the men of the CCC. From 1934 to 1937, the young men of the CCC constructed the limestone retaining wall and Headquarters buildings.
Inside the cave, they widened passages, laid flagstone pathways, installed handrails and lighting, and enlarged the entrance.

"These young men were lost," says Maierhauser. "Their families were in dire straits."

Yet through the CCC, she says, many of them were able to get high school diplomas, learn a trade, or an art, and "above all, they learned a work ethic that has stood them in good stead the rest of their lives."

For Elson Alvarez, the memories of his experience as part of the CCC represent a life-changing experience that carried him through an entire career.

"Since the age of 19 until the age of 65, when I retired: Not a single day without a job," he says with tears in his eyes. "I don't know… I'm a happy old man now."
For more on the Civilian Conservation Corps, visit our CCC web feature, A Legacy in Stone.