Jim Nintzel and Stephen Seigel of The Tucson Weekly discuss the 2011 TAMMIES with Mark McLemore

Matt Felix
The Tucson Weekly's annual public-choice music awards, The TAMMIES provide an opportunity to recognize some very deserving local talent, and to spotlight the best music that our city has to offer.
This year, the TAMMIES will lead into the annual HoCo celebration at Hotel Congress, and it is surrounded by some benefit concerts being held Craig Shumacher of Wavelab Studios to pay off the medical bills that have been mounting during his treatment for cancer.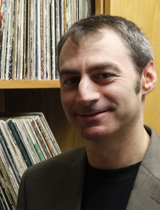 Stephen Seigel, music editor for The Tucson Weekly (PHOTO: Matt Felix)
Shumacher, a record producer for artists both local and national, is known for his work with bands like Calexico, Neko Case, DeVotchKa, Iron and Wine, and many others. In this interview, The Tucson Weekly's music editor Stephen Seigel and the senior writer Jim Nintzel discuss Shumacher's influence on Tucson's music scene, as well as some of the up and coming bands who are in the running for this year's much-coveted awards.
The 2011 TAMMIES will be presented during a live show at the Rialto Theatre on Wednesday, August 31st, featuring performances by Gabriel Sullivan and Taraf de Tucson, Seashell Radio, The Tryst, Greg Morton, Hollywood Knights, and the 2011 inductee into the TAMMIES Tucson Music Hall of Fame, Neon Prophet.
To help sort out this oncoming storm of Tucson shows and celebrations, here's a link to a Soundbites article by Stephen Seigel that connects all the dots.