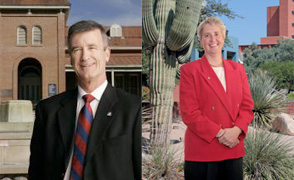 President Robert Shelton and Provost Meredith Hay
Join us for a special program on the reorganization at the University of Arizona. The guests will be University of Arizona President Robert Shelton and Executive Vice President and Provost Meredith Hay. Host Bill Buckmaster and studio guests will talk about the reorganization process and take telephone calls and e-mails from viewers.
While KUAT6 and KUAZ coverage is limited to 30 minutes, discussion will continue live on the UA Channel and online at azpm.org. Click on On Demand and Live Events when the program begins to watch live streaming of the special.
Your telephone calls [ 520.621.1600 ] will be taken in our studios. Questions will be then be passed to host Bill Buckmaster for comment by President Shelton and Provost Hay. Email questions will also be accepted here.
UA Transformation Information
President Robert N. Shelton's website
Provost Meredith Hay's website