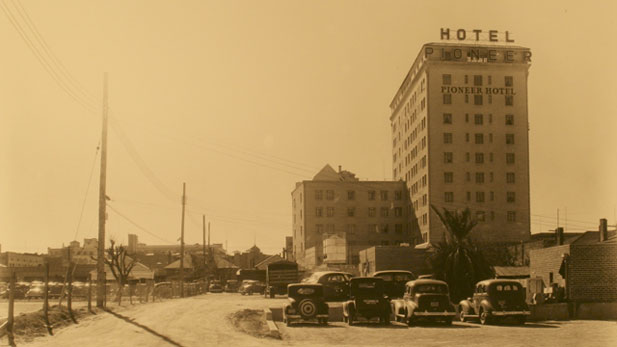 PHOTO: AZPM
The Pioneer International Hotel, constructed in 1929, graces downtown Tucson in this vintage image.
Demion Clinco, president of the Tucson Historic Preservation Foundation, tells the history of another Roy Place-designed building in Tucson, the Pioneer International Hotel.
The hotel, at North Stone Avenue and East Pennington Street, was the social center of Tucson in the early part of the 20th century.
It was heavily damaged in a 1970 fire that left 29 people dead and was never again used as a hotel. The owners converted it to office space.
Once known as a grand hotel and place of sophistication, the building was not the only thing left scarred. Downtown Tucson was no longer seen as the center for social life, but rather the scene of the tragic fire.
"Perhaps with the renovation of the Roy Place building across the street, a second look at the architectural potential of the Pioneer Hotel will spark a restoration to re create this unique jewel in Tucson's crown," Clinco says.