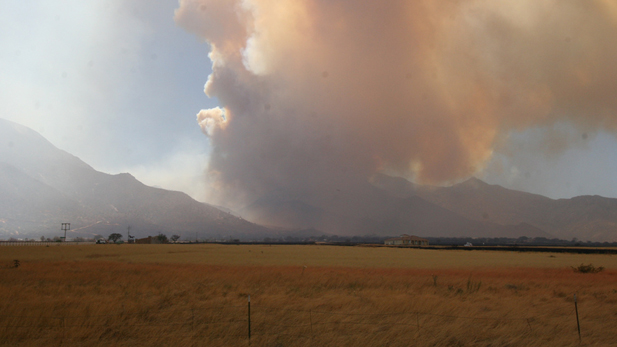 PHOTO: Michel Marizco
A billowing wall of smoke rises from the flames over Ash Canyon in Southern Arizona's Monument Fire. The fire burned more than 30,000 acres in more than a month and destroyed more than five dozen homes.
Reseeding and other remedial work is well under way in the aftermath of two large Southern Arizona wildfires this summer, U.S. Forest Services officials say.
Members of the Forest Service's Burn Area Emergency Response team -- called BAER -- have taken steps to shore up the scorched earth to minimize erosion and flooding, BAER members Rob Griffith and Cathleen Thompson say.
Both are in Arizona, dispatched from their Northern California homes, to lend assistance to Coronado National Forest officials working on cleanup, erosion and flood prevention and rehabilitation in the wake of the two fires, which were fully contained in July.
The Monument Fire, which burned in the Huachuca Mountains, blazed through more than 30,000 acres and destroyed more than 60 homes in the area, creeping up to the suburbs of Sierra Vista.
The Horseshoe 2 Fire burned more than 220,000 acres in the Chiricahua Mountains farther east, including spilling across the state line into New Mexico.
Griffith and Thompson say while they were sent to assist Coronado Forest officials, the bulk of the fire aftermath work going forward will be handled by Coronado foresters.