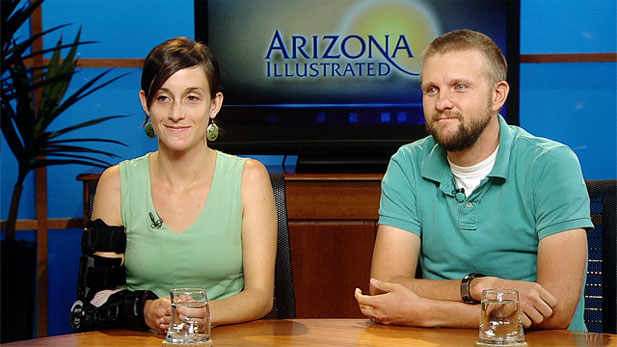 PHOTO: AZPM
Melanie Colaviito, founder of utilitycycling.org, and Michael McKisson, creator of tucsonvelo.com, discuss the cycling culture their sites celebrate.
The League of American Bicyclists recently awarded the University of Arizona with "Silver" status as a bike-friendly university. For bike enthusiasts Mike McKisson and Melanie Colavito, the recognition comes as no surprise.
McKisson, an adjunct professor in the UA journalism department, began his love affair with cycling when he weighed almost 300 pounds, and has since lost 130 pounds through his increased activity cycling around Tucson and to and from campus everyday. He currently operates and publishes his own cycling website, Tucson Velo, in hopes of helping and inspiring other cyclists.
Colavito, a UA graduate student, created her own cycling website, Utility Cycling, and has ridden her bike to school for the past eight years. She and McKisson join Arizona Illustrated to discuss the campus' wealth of cycling resources.