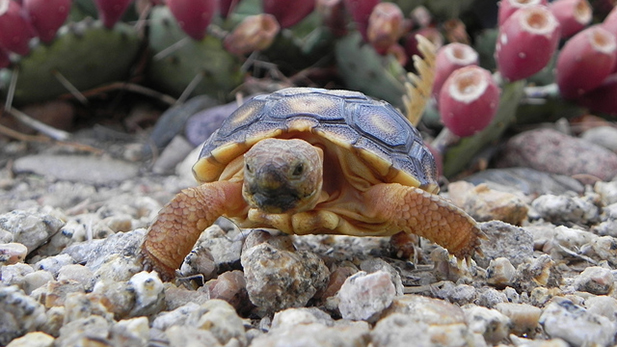 A baby Sonoran desert tortoise.

U.S. Fish and Wildlife Service
According to the U.S. Fish and Wildlife Service, Sonoran desert tortoises face many threats, including development, off-highway vehicles, improper livestock grazing, border enforcement activities, drought and climate change.
Nine years ago, the U.S. Fish and Wildlife Service determined the tortoise was a species worthy of protection under the Endangered Species Act. Cyndi Tuell, Arizona and New Mexico director with Western Watersheds Project, says the agency reaffirmed that decision for several years and was preparing the formal listing process under the Endangered Species Act when it suddenly reversed that decision in 2015.
The lawsuit filed by Western Watersheds Project and WildEarth Guardians challenges that 2015 finding that the species doesn't deserve federal protections.
"We hope that the Fish and Wildlife Service will come to its senses and look back at all the science they've collected since 2012 and before and realize that the situation for the tortoises has gotten worse, not better, and that they are still a priority species for listing under the Endangered Species Act," Tuell says.
Tuell says the agency is relying on insufficient scientific data to evaluate the species extinction threats and hasn't provided good rationale for that change of course. The lawsuit asks the court to set aside the 2015 decision and apply the best science available to provide protection for the species.