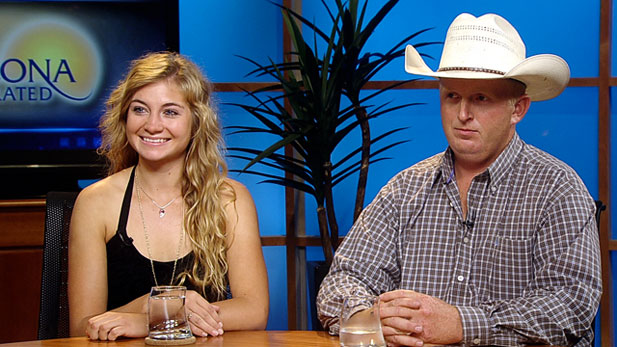 Rodeo competitor Kayla Lewis and rodeo chairman Brent Cole discuss the upcoming Sonoita Labor Day Rodeo. (PHOTO: AZPM)
Sonoita, Arizona has a permanent population of just a few hundred residents, but every Labor Day Weekend, thousands of people flock to this community southeast of Tucson for a major annual tradition.
The 96-year-old Sonoita Labor Day Rodeo is said to be one of the best and largest in the southwestern U.S., with multiple activities for all members of the family. Former rider and current rodeo chairman Brent Cole says the event will have more than 700 entries this year, including a wild horse race, bull riding and barrel racing.
Kayla Lewis, who is attending the University of Arizona on a rodeo scholarship, grew up in the Sonoita area, where she began riding and working with horses while still a baby. She and Cole join Arizona Illustrated to discuss the event and its appeal to urban and rural spectators alike.
The rodeo is being held from Saturday, September 3rd until Monday, September 5th.