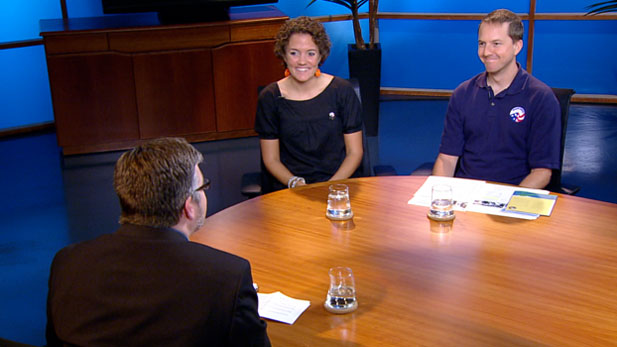 PHOTO: AZPM
Beth Phillips, a former Peace Corps volunteer in Africa, and Aaron Hoholik, a Peace Corps recruiter at the University of Arizona, discuss the Corps' 50th anniversary.
President John F. Kennedy originated the idea of the Peace Corps in a historic late night speech he made to a group of about 5,000 University of Michigan students on October 14th, 1960.
Kennedy challenged those students to spend two years of their lives helping people in the developing nations. Many of them did just that, and this year, the Corps is celebrating 50 years of promoting peace and friendship around the world.
But the image that many people may have of a typical Peace Corps volunteer being college-aged has changed. Today, professionals from a wide range of fields are volunteering for Peace Corps service, and many return to the Corps after working in the private sector as well.
In this interview, University of Arizona Peace Corps recruiter Aaron Hoholik and former Corps volunteer Beth Phillips share some of their own volunteer experiences and reasons for joining, as well as a look ahead to the Corps' future.