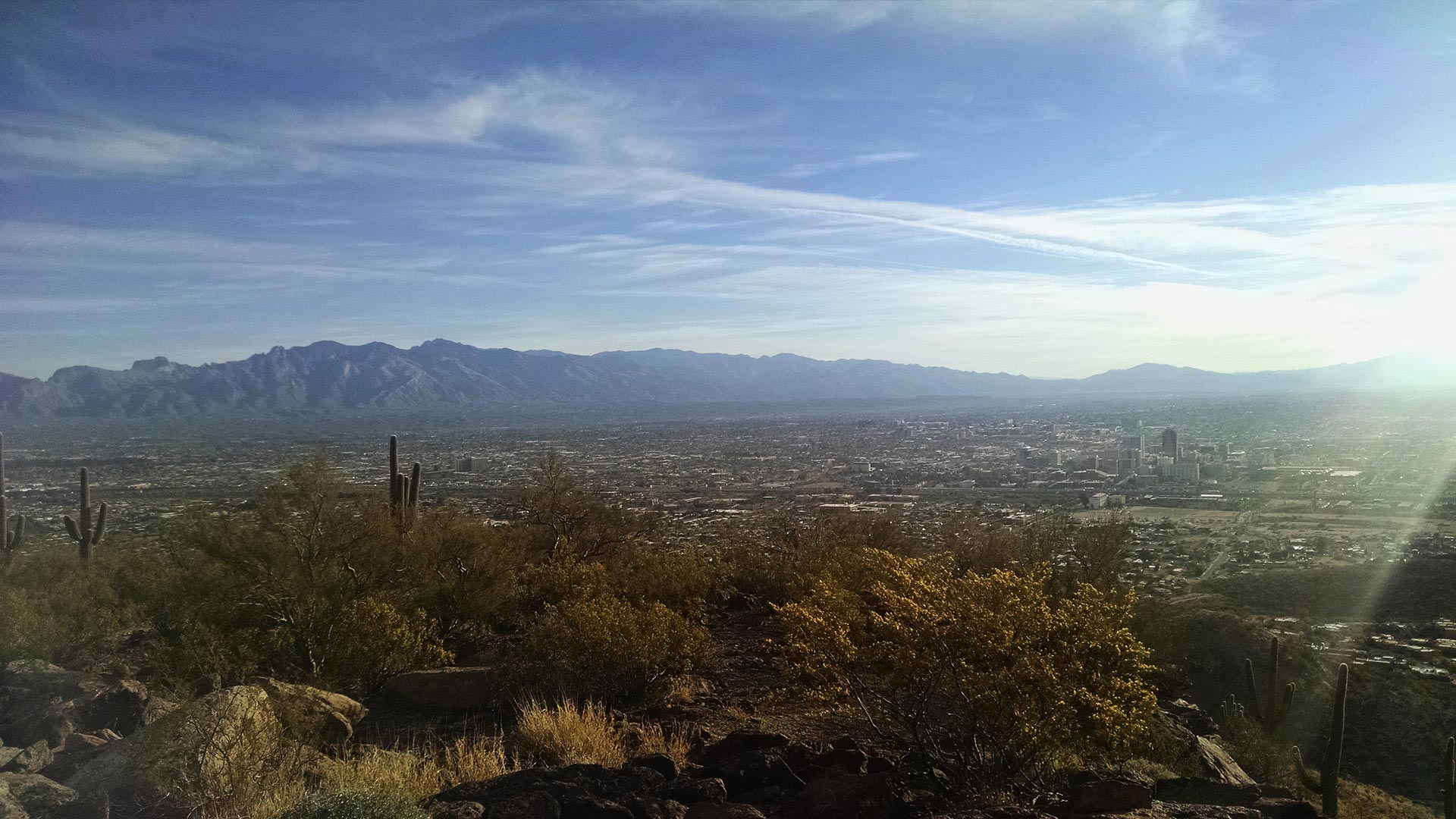 A view of Tucson from Tumamoc Hill.
Nick O'Gara/AZPM
The question on the city of Tucson general election ballot receiving the most attention this year is Proposition 205, better known as the sanctuary city initiative.
The initiative is the work of the People's Defense Initiative.

"What it actually is is a long set of very specific guidelines with very clear goals. Sanctuary is what you make it in the United States because all sanctuary policies are very different," Zaira Livier, executive director of the People's Defense Initiative, told The Buzz.
The initiative prohibits racial profiling by law enforcement. It also limits when police officers can inquire about a person's immigration status. Prop. 205 additionally bars police officers from participating in federal investigations that are centered on immigration.
The proposition allows the city to be sued if it is violated. A judge could impose a fine of up to $5,000 for each day the city violates the law. The money would be given to the Community Food Bank of Southern Arizona.
Local leaders including members of the Tucson City Council and the Tucson Police Chief Chris Magnus have come out against Prop. 205.
Citizens for a Safe and Prosperous Tucson is one of two groups that oppose the initiative. Spokesperson Joseph Morgan told The Buzz one of their concerns is a possible rise in crime and the effect that could have on the economy.
"It is just an absolute statistical, sociological fact that where you have high crime you have less economic engagement, you have less reason for businesses to come in," Morgan said.
City leaders have also expressed concern that if the initiative passes, Tucson could lose millions in state money because the proposition could conflict with existing state law.
The state's pre-emption law only addresses ordinances passed by local governments, not citizen initiatives. Legal experts say that makes the question about the legality of the sanctuary initiative complicated.
"If you look at the plain language of the pre-emption statute, there is nothing in there that says if voters using their right to initiative … there is nothing in the pre-emption statute that says when that happens that the state can go after state shared revenue dollars from the legislative entity where that initiative has been passed," UA law professor Shefali Milczarek-Desai told The Buzz.
In 1987, Oregon became the first state to pass a sanctuary state law. It went largely unnoticed until 2017 when the Trump administration began trying to restrict federal dollars for sanctuary cities and states.
Oregon took the federal government to court over the loss of federal law enforcement dollars and won.
Even though the law has been on the books for three decades it is still being interpreted, said Dirk VanderHart, a reporter with Oregon Public Broadcasting.
"I'm not sure, even all these decades later, Oregon has that much clarity on exactly the outer limits of how this law works," VanderHart said.