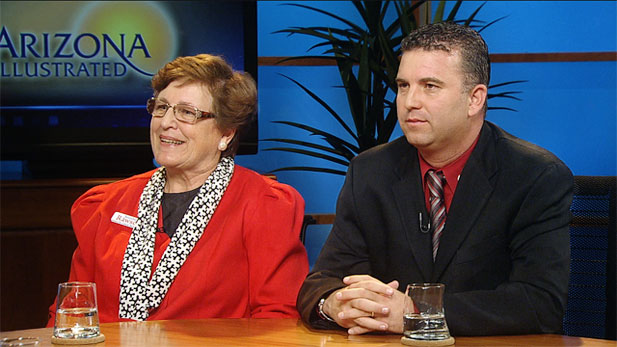 PHOTO: AZPM
Andrea Kelly and Christopher Conover interview the candidates running for Tucson City Council in Ward 2. Republican Jennifer Rawson is challenging Democrat Paul Cunningham for his seat.
Even though Paul Cunningham is an incumbent in Ward 2 on the Tucson City Council, he is running in his first election because he was appointed to fill a vacancy in 2010. That means he and Jennifer Rawson, the Republican challenging him for the northeast side council seat, are both introducing themselves to voters in their first election cycle.
If elected, Rawson says she would look forward to working with Republican Councilman Steve Kozachik, because some of his ideas haven't had thorough hearings with the council.
"I know that he has put forth some very good ideas and has been unable to get a second," she says. If another member of the council doesn't second a motion, it does not get put to a full council vote.
Cunningham says, in his experience so far, working with the other council members shouldn't be about personalities, but about what's best for Tucson.
"The best thing to do is to try to forge good, positive relationships with everybody on the council," he says.
In an interview, the candidates discussed the future of the city, plus what to do about Rio Nuevo, road quality and the city budget.