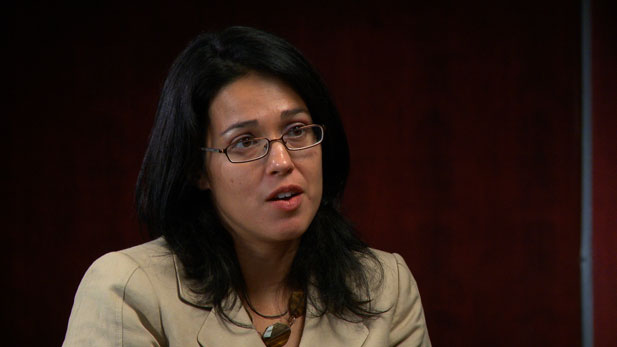 Alessandra Soler Meetze, executive director of the ACLU in Arizona, calls security or freedom a 'false choice'.
Increased security that came in the wake of the 9/11 terrorist attacks came at the expense of some American rights and freedoms, three legal specialists say. They diverge on the extent to which freedoms were scaled back.
"Our government told us that we had to make a choice between safety and freedom," says Alessandra Soler Meetze, executive director of the American Civil Liberties Union of Arizona. "And we believe that's a false choice."
Meetze and two others made comments about the Patriot Act and the larger issue of national security vs. individual rights for Friday's Arizona Week broadcast.
Paul K. Charlton, who was U.S. attorney for Arizona on 9/11 and now a lawyer in private practice in Phoenix, says he thinks there were some breaches of people's rights and freedoms, as spelled out in U.S. inspector general reports. But he says largely that the Patriot Act and attendant security and investigative measures have been necessary.
"I think the Patriot Act is a good law," Charlton says. "I think it's a law that's necessary for law enforcement to do its job in the United States."
Douglas J. Sylvester, interim dean of the Sandra Day O'Connor College of Law at Arizona State University, says the Patriot Act lowered the strict standards that had been in place to keep law enforcement in check when it cae to impinging on Americans' rights and freedoms, including their privacy.
Asked if information centralization via new technologies and the Internet had led to more threats to individual liberties, Sylvester says, "It certainly has."
Sylvester, who specializes in cyber law and privacy issues, says some of the breaches have been unintentional and unanticipated.
He cites as an example, the government's requirement that Internet companies such as Google provide a "back door" for quick access to data on demand. That has also opened the way for foreign governments and individual hackers to find their ways into such data, perhaos a greater threat to individual privacy than from the U.S. government.
Reporter Michael Chihak further explores the issue of security vs. freedom on Arizona Week. Watch here:
(VIDEO: AZPM)