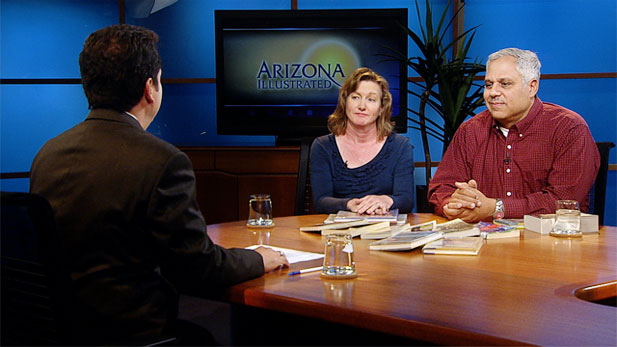 PHOTO: AZPM
Kelly Urman, a librarian at the Valencia branch of the Pima County Public Library system, and Rich DiRusso, the system's collection development manager, discuss the allure and controversy surrounding banned books.
Banned books attract a lot of attention, curiosity and controversy, and those who are interested in this topic will have a week full of different events where they can learn more about these issues and discuss them with other residents.
Banned Books Week in Tucson, celebrated from Saturday, September 24th to October 1st, seeks to raise the city's awareness of censorship.
Kelly Urman, a librarian in the Pima County Public Library system, says plenty of titles have stirred up controversy, including the popular Harry Potter series and And Tango Makes Three, a 2005 title based on a true story about two male penguins that together hatched and cared for a little penguin in Manhattan's Central Park Zoo.

And Tango Makes Three has landed on the list of most frequently banned books in 2006, 2007, 2008, 2009 and 2010.
Rich DiRusso is the manager of collection development, which buys books, DVDs and other products for the library system. DiRusso and Urman join Arizona Illustrated to discuss the role of libraries in community controversies over banned books.
The role of librarians is to defend access to the material, not necessarily its content, DiRusso says. Despite the occasional controversy, DiRusso says he believes the majority of Americans understand the value of a diversity of titles and options, even if they include books they personally don't like.