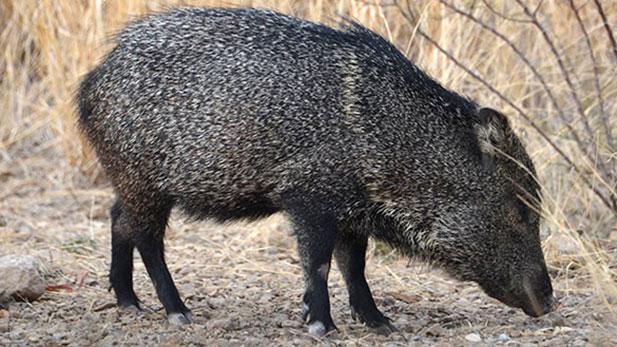 A collared peccary, or javelina.

Cookie Ballou/NPS
A Tucson woman could face a fine and a series of rabies shots after being bitten by a wild javelina she was feeding.
The unidentified woman was treated and released from an urgent care facility Sunday night after a female javelina accompanied by several young bit her while she was feeding it, in an area northeast of Speedway and North Painted Hills Drive on Tucson's west side. Arizona Game and Fish spokesman Mark Hart says the woman "habitually" fed the animals.
"She felt like she was doing something good for wildlife, but she was not, in our view," Hart said.
Hart says feeding wildlife is bad for people, who can be attacked, and bad for the animals, which lose their natural behavior and become easy prey. That's why it's illegal in Pima, Pinal and Maricopa counties.
"Anytime we get into the wildland-urban interface as we do here in the Tucson area, and in metro Phoenix, we have issues with javelina, coyote and bobcat routinely," Hart said.
Hart says the department is still investigating and hasn't decided whether to cite the woman. She could face a $300 fine under state law. Rabies shots have been recommended, though Hart says it's likely the animal was just protecting its young and doesn't have rabies.