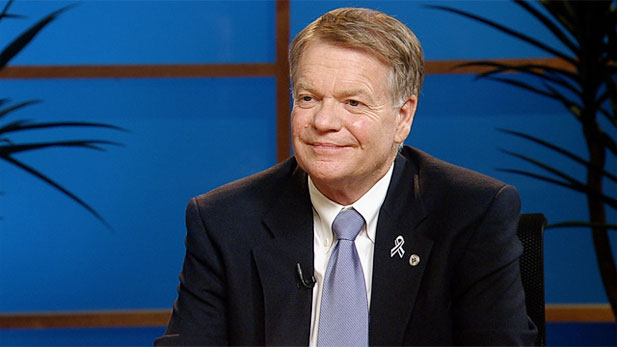 PHOTO: AZPM
Bill Carnegie, president and CEO of the Community Food Bank, explains what the community can expect from the new Gabrielle Giffords Family Assistance Center.
Residents who need help in areas like tax assistance, legal advice and food stamps will now be able to get the advice they seek in the Gabrielle Giffords Family Assistance Center.
The Community Food Bank of Southern Arizona is dedicating a new location within its 140,000 square-foot warehouse to consolidate these sought-after services for its clients--and honoring the popular lawmaker in the process.

After Giffords was shot and seriously injured earlier this year, her husband Mark Kelly suggested that donations be made to the Community Food Bank or the American Red Cross, two of the congresswoman's favorite charities.
Since then, the local food bank says it has received more than $193,000 from residents in 48 states and various countries, and those donations made it possible to build the center.
President and CEO Bill Carnegie says the funds have been especially helpful in the tough economy, which has driven an increasing number of people to seek food and other assistance. He says the food bank is already entering its "holiday mode," when it typically experiences a spike in the demand for services.
The Community Food Bank of Southern Arizona will host a public event on Friday, September 23 at 3 p.m. to dedicate the new center, which is located within its main warehouse at 3003 S. Country Club Road in Tucson.