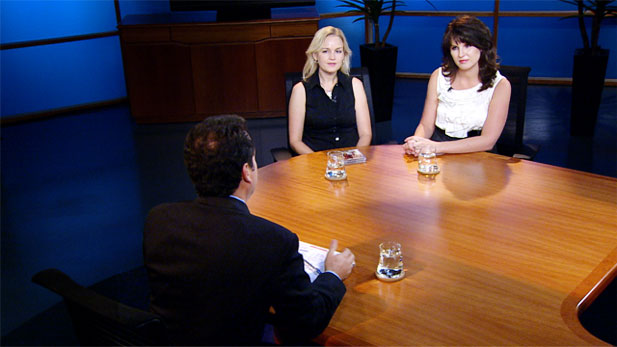 PHOTO: AZPM
Singer-songwriter Amber Norgaard (left, facing camera) and Lyndsay Bruno, spokesperson for the Humane Society of Southern Arizona, discuss the upcoming Pet Rock Family Concert.
The Humane Society of Southern Arizona is putting on the first Pet Rock Family Concert on Sunday, September 25, with help from a small group of community partners and sponsors.
The event will bring performers and musicians to Crossroads Silverbell Park and will include Amber Norgaard, a former nurse who left that career to pursue her musical passion full-time.

Norgaard says she decided to participate in the concert because it's a great way to give back. The proud owner of two dogs herself, she believes pets and music are both good for the mind and spirit.
Lyndsay Bruno, spokesperson for the society, says the concert is just one of several events and programs every year aimed at raising funds for the group's mission, which includes finding homes for thousands of unwanted dogs, cats and other animals.
The Pet Rock Family Concert is scheduled from 10 a.m. until 6 p.m. and will include vendors and activities in addition to the music.