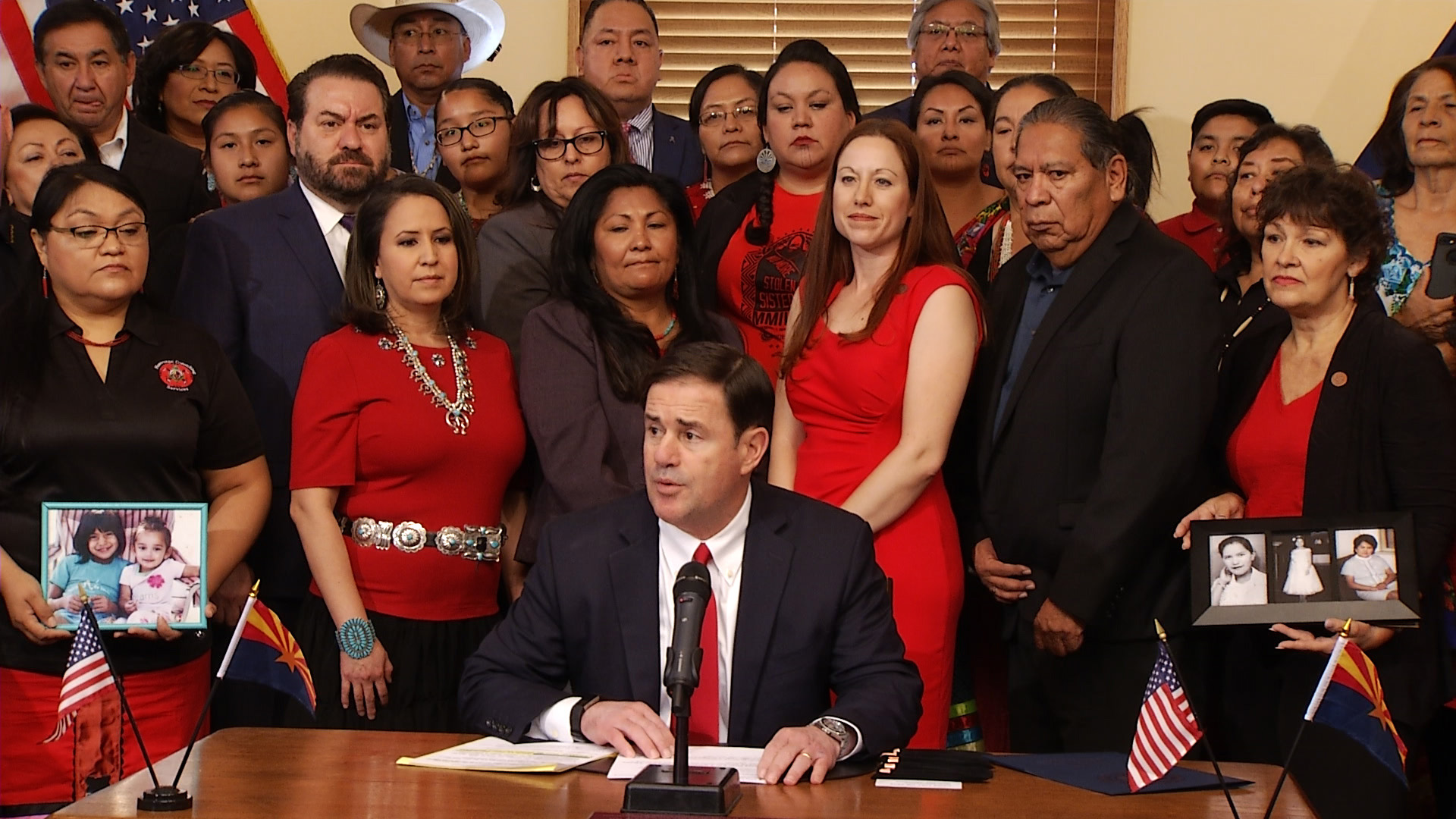 Gov. Doug Ducey holds up HB 2570, a law that will require the state to collect data on missing and murdered Indigenous women and girls, at the ceremonial signing Aug. 13, 2019.
AZPM
A state study committee collecting data on missing or murdered Indigenous women and girls met Tuesday, Oct. 29, in Northern Arizona to learn more about how this violence affects the community.

State Sen. Jamescita Peshlakai, the vice chair of the committee, said a crowd of Hopi and Navajo residents who spilled in the hallway met the study committee in the Hopi village of Moenkopi. She said it's the government's responsibility to reach out to all Arizonans.
"We are dealing with families that are really vulnerable. That's why they're targeted," said Peshlakai. "They don't have the means to have a lobbyist at the Capitol. They don't have the means to have lobbyists in Washington, D.C."
Peshlakai said the committee, which is made up of lawmakers, advocates and law enforcement officers from across Arizona, will travel to both urban and rural communities to see how people in different legislative districts live.
State Sen. Victoria Steele, who is another member of the committee, called the testimonies "heart-wrenching."
"You would hear a woman speaking in the Navajo language, and I could not understand the words, but their pain was absolutely unmistakable," said Steele. "They cried. They were angry. Most of them were just in incredible pain. These were mostly elderly people that were crying because their daughters and their granddaughters had been taken."
Peshlakai said she's fluent in Navajo and was able to translate for the committee members who don't speak that language. She said she thinks since the committee wants to travel to more tribal lands for future meetings, they must have translators, so non-English speaking Indigenous Arizonans can share their stories with the committee.
Steele said some residents also said how frustrating it was to ask for updates on their loved one's case at a law enforcement agency — like the tribe, county or FBI — and they would be told to go to one of the other groups for answers.
"We know that this jurisdictional spiderweb is a part of the problem, because it delays investigation," said Steele.
The committee's next meeting will be in early December, at a location to be determined.