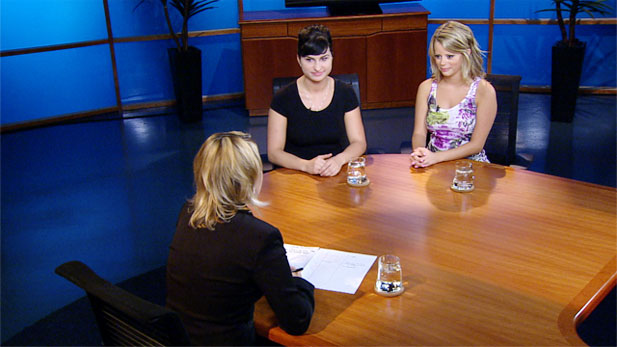 PHOTO: AZPM
Ally Napier (left), a UA senior, and Kelly McGuckin, a junior, discuss their expierences studying business in India.
Many people learn about international economics by attending classes or doing research online.
A group of students from the University of Arizona is using an experience in India for that purpose. More than 50 students visited this economic powerhouse as part of a program that is taking them to some of the fastest-growing economies, the "BRICS" countries: Brazil, Russia, India, China and South Africa.
Ally Napier and Kelly McGuckin are among the Eller College of Management students who recently returned from a 10 weeks in India, studying business communication, finance, marketing and emerging markets.
Napier says a highlight of the trip was meeting Kiran Mazumdar Shaw, a billionaire who started a business in her father's garage with an investment of $250.
"I got two hours of one-on-one lunch with her. she was named one of the entrepreneur of the year, one of Forbes' 100 top business women in the world. It was really incredible," Napier says.
For McGuckin, a highlight was traveling the enormous and diverse Asian nation. "Seeing the incredible growth and innovations in a developing country was very inspirational," she says.