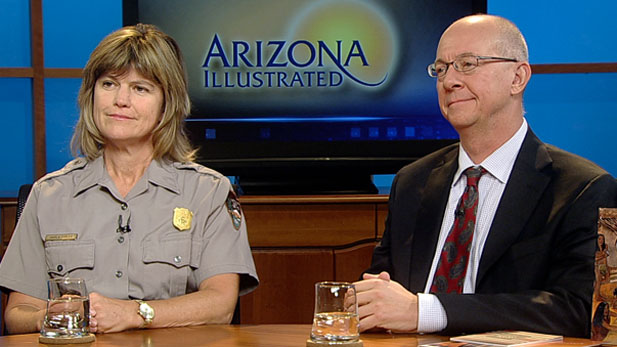 PHOTO: AZPM
Superintendent of Saguaro National Park Darla Sidles (left) and James E. Cook (right), Executive Director and CEO of WNPA, talk about the Western National Park Association and its mission.
Since 1938, the Western National Parks Association has been working to support research and other programs in dozens of national parks throughout the U.S.

WNPA Executive Director and CEO James E. Cook tells Arizona Illustrated that one of the group's main fundraising tactics is to publish and sell books and other items in more than 60 locations, and readers have plenty of options--more than 175 WNPA books are in print.
WNPA operates a store in Oro Valley northwest of Tucson that opened in 2002 and sells field guides, hiking equipment and many other items in addition to books.

The association also maintains partnerships with the individual parks in this region, including Saguaro National Park, where Darla Sidles is the superintendent.
Sidles says the contributions from WNPA are vital to her park and others across the country.