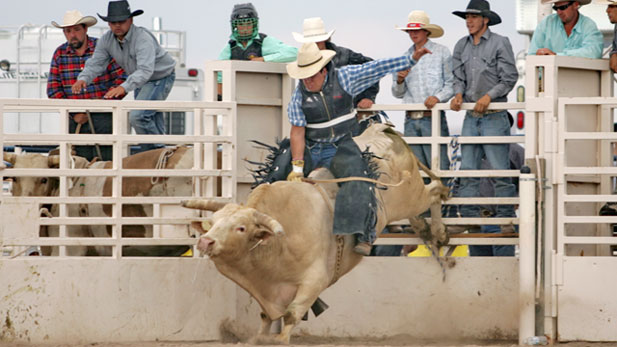 PHOTO: AZPM
Attendees of the Rex Allen Days celebration watch a bull rider at the professional rodeo. 2011 marks the 60th year of the event that honors the "singing cowboy" from Wilcox, Arizona.
Thousands of people are expected in Willcox, Arizona in the next few days for a gathering that attracts visitors from as far as Germany and Japan and contributes substantially to the local economy.
Rex Allen Days is an annual event in this community southeast of Tucson that celebrates the life of the actor, singer and songwriter. Rex Elvie Allen was born in 1920 and died in 1999, and his many contributions in the entertainment industry won him a star on the Hollywood Walk of Fame.
Rex Allen Days will be held from Thursday, September 29th until Sunday, October 2nd, and will include a parade, concert, rodeo and many other activities for people of all ages.
Delcie Schultz, director of the Rex Allen Museum in Willcox, says the celebration has had such a big impact on her life that and she and her husband moved from Florida to Arizona to be closer to the action.
She and the event's vice president and parade chair, Alfred Telles, tell Arizona Illustrated this year's Rex Allen Days celebration--the 60th--is an official State of Arizona Centennial Event, ahead of the state's 100th birthday on Valentine's Day, 2012.