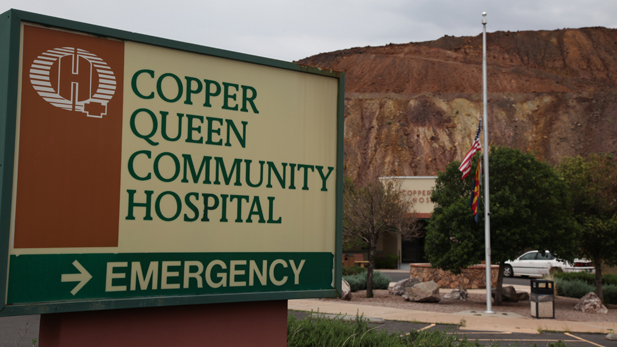 Copper Queen Community Hospital in Bisbee, Ariz.
By CHRISTOPHER CONOVER and ANDREA KELLY ARIZONA PUBLIC MEDIA
When the Legislature and the governor decided to cut the budget for Arizona's Medicaid program, state officials said they would no longer accept new applications from adults who don't have children.
The program, known as AHCCCS or Arizona's Health Care Cost Containment System, is also dropping some people without children when they reapply for another six months of coverage.
One of them is Mareya Bullard, who was dropped from AHCCCS after six months of coverage, when she was in the middle of chemotherapy treatment for breast cancer.
She found alternative coverage through the Pima Community Access Program, with help from Susan G. Komen For the Cure in Tucson, but it and other stopgap programs can't help everybody.
Other options include St. Elizabeth's Health Center, which receives funding from Komen for low-income residents, and the Marana Health Center, which offers some services on a sliding fee scale to accommodate low-income patients.
Jim Dickson, CEO of Bisbee's Copper Queen Community Hospital, says the state cuts come on top of other financial stress in Arizona's rural communities. He said he is worried that hospitals will start to close when they have to care for patients who don't have coverage and can't pay for their healthcare.
AHCCCS has set up a Web page to address questions about changes to the plan, and there is information about other services on the state Department of Economic Security and Department of Health Websites.
Additional information is available in PDF format:
Childless Adult Transition Plan
View at Google Docs | Download File
Letter from Medicaid to Arizona
View at Google Docs | Download File
AHCCCS Application Information
View at Google Docs | Download File
Listen to the half-hour special report on how the AHCCCS funding cuts impact Southern Arizona patients and health care providers.