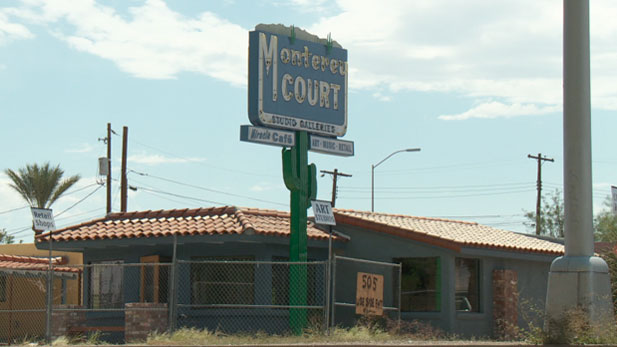 PHOTO: AZPM
Tucson's Miracle Mile Monterey Court is "reborn" as an art gallery/studio space complete with a cafe and music venue.
Tucson's Miracle Mile, the city's first divided highway, was built in the 1930s as a northwest gateway into Tucson. The area has changed over the years, but when you drive down the strip today you can still see the numerous hotels and motor courts that catered to the automobile equipped traveler.

Dar Dobroslavic is renovating the Monterey Motor Court, converting the structures into art galleries, studios, a café and a large performance space. She says the area is experiencing a rebirth of sorts and has shed its recent negative reputation.

"I envision Monterey Court to be a place where people from all walks of life, here in Tucson, can find each other and have a wonderful experience," Dobroslavic says.

"In between the studio-galleries, and in the central area, will be the Miracle Marketplace, where artists, crafts people, produce providers, and some antique dealers, can come and have a small business set up on a seven day a week basis."

Many small units have tenants although they are still being remodeled.
Chello Chavez, an artist who works in tile mosaics, says she's excited about moving in and looks forward to working in close proximity with other artists. "It's collaborative," she says.
"As an artist working in your own studio it's a little solitary –which is great, I enjoy that," Chavez says. "But in this collaborative environment, it's just exciting to have that vibe."

Juan Ciscomani, membership director with the Tucson Hispanic Chamber of Commerce, says the Monterey Court project is indicative of how the community along Miracle Mile is making a positive change.

"Art is a big part of our culture, and our city, and I'm very happy that a place here in Tucson, especially in this location, is making a true effort to bring art into the city," Ciscomani says. "It's almost like a rebranding of the area, and it starts with art."
Dobroslavic and her partner are finishing the rebranding of the Monterey Court, even as tenants are moving into the space. "Food, art, shop, music… it's all here," Dobroslavic says.

Monterey Court is scheduled to be open to the public later this fall, with formal dedication in December.