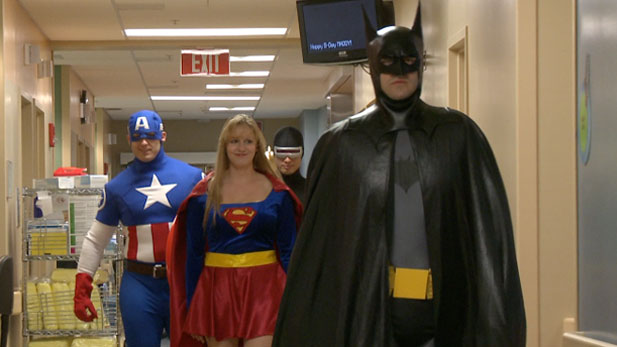 PHOTO: AZPM
Comic book superheroes of Tucson, Justice League Arizona, visit the children's ward of a local hospital as part of a goodwill mission.
What truly qualifies someone to be called a superhero?
For Justice League Arizona, being "super" is about more than having powers or wearing a cape -- it's about helping those in need.
These Tucson superheroes use the comic book shop "Heroes & Villains" as their base of operations. When duty calls, they are quick to go into action for a worthy cause.
Producer Mark McLemore and videographer Bob Lindberg spent the day with Justice League Arizona as they performed a goodwill mission to Diamond Children's Medical Center in Tucson, to visit some of the youths who were convalescing there.

Joining them that day were some representatives of the Arizona Avengers, a group that uses the characters of the Marvel Comics universe for inspiration.
When not wearing the mystical helmet of Earth's sorcerer supreme Dr. Fate, JLAz lead organizer Dustin Dial helps to patrol the streets of Tucson and keep its citizens safe as a member of the Tucson Police Department.
He is quick to cite his life-long fascination with DC Comics as a main reason why he pursued a career in law enforcement--and his work with Justice League Arizona as a continuing inspiration.