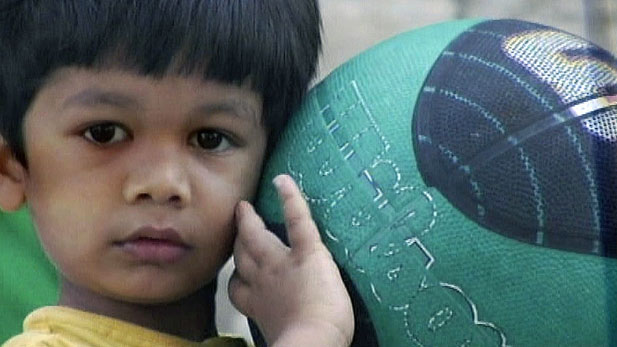 A class of "new poor" is emerging from among Arizonans who were comfortable, middle-class workers. To blame: the ongoing economic downturn, social-service providers say.
In interviews for Friday evening's Arizona Week, several providers and a policy analyst said they are seeing many more people come forward with stories of lost jobs, lost homes, cutoff of utilities for unpaid bills and even hunger.
Thousands are suffering, more than in times past, said Bill Hart, senior policy analyst for the Morrison Institute for Public Policy at Arizona State University.
"It's affecting the state more than we know," Hart said. "The reason we don't know it ... is that it affects primarily, most heavily, the poor, the sick and the young. These people are often ones we don't hear from. They don't have strong representation in government, they don't have access to the public microphone as other groups do.
"So I think there's a lot of misery out there that we don't know about."
Mary Lou Rosales knows about it. As executive director of the Community Action Human Resources Agency in Eloy, she said she and her staff have seen a significant increase in the number of people seeking assistance with food, shelter and utilities. Many have lost their jobs, and in rural areas such as Eloy and other parts of Pinal County, Rosales said, they have little chance of finding work.
The Community Food Bank for Southern Arizona has seen the number of people it serves grow from 98,000 five years ago to 235,000 today, Executive Director Bill Carnegie said. He said many of them are in the class of "new poor" who have lost jobs.
Carnegie estimated that 80 percent of those still working in the Tucson area don't have enough resources to last more than three or four weeks if they become unemployed.
Rosales said that while she cannot say people are going hungry, she does know that some people skimp to get by.
"People are missing meals," she said. "Maybe they eat just once a day. Parents maybe go without food so that their children will eat."
Children are being affected in more than one way in the economic downturn through governmental services cuts, said Penelope Jacks, director of the Children's Action Alliance Southern Arizona.
Cuts to public education as well as reductions in social services are hurting them, Jacks said.
"For every year a child spends in poverty, their likelihood of reading at grade level, by Grade 3, goes down," she said.
Jacks said her organization is working to make sure state legislators are aware of the ramifications of cuts and the cost efficiencies in providing adequate support for children.
"Our jobs is to make sure that every legislator knows what the impact of cuts on children will be and what a bargain children are," Jacks said. "Everything that we do for children is a bargain compared to what we would have to do remedially."
Reporters Michael Chihak and Lucy Valencia further explore the issue of rising poverty in Arizona on Arizona Week. Watch here: