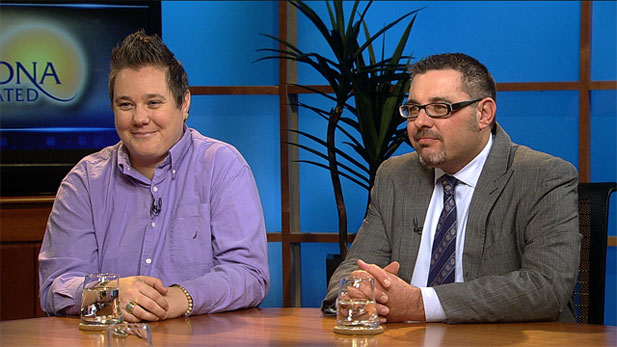 PHOTO: AZPM
Monique Vallery (left) SAAF events coordinator, and Ethan Smith Cox (right), SAAF director of development, discuss the upcoming AIDSWALK.
The Southern Arizona AIDS Foundation will be holding their 23rd annual AIDSWALK on Sunday, October 16. Working with other vendors and sponsors, the organization hopes to not only raise money, but to also raise awareness and offer free HIV testing.
"We're partnering with the Pima County Health Department, and we have seen a need, we want people to get tested," says Monique Vallery, SAAF events coordinator.
Along with the annual walk, SAAF hosts three other signature events throughout the year, including the Moda Fashion Show, Festival for Life, and a Jello-Wrestling Extravaganza, to collect donations that fund the support and prevention services SAAF offers.
"SAAF offers a wide range of care services to people that are clients, including case management, peer counseling, and support groups," says SAAF Director of Development Ethan Smith Cox.
Vallery and Cox join Arizona Illustrated to discuss SAAF's efforts.
You can donate to the AIDSWALK online or make a $10 donation by texting "SAAF" to 20222.