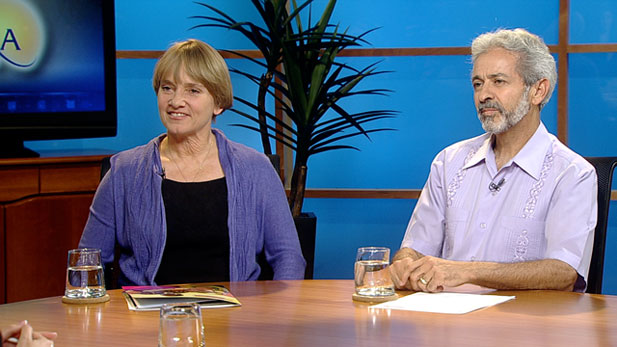 PHOTO: AZPM
Mia Hansen (left), executive director of Tucson Meet Yourself, and Celestino Fernandez (right), director of undergraduate studies in the UA department of sociology, share their plans for this year's Tucson Meet Yourself festival.
The Tucson Meet Yourself festival began as a way to celebrate Tucson's living folk art. But over the past 38 years, the weekend-long festival has grown well beyond the original expectations.
"We take up six blocks and 60 acres," says Mia Hansen, the festival's executive director, in an interview for Arizona Illustrated. "So the preparations are immense."
Music, food, arts and crafts, now from all over Southern Arizona and Mexico, will be on display, along with performances from over 250 groups.
The event, which has grown in attendance and length, has become an interactive way to learn about folk art from all over Arizona.
"After 38 years, I think we need to develop a plan," jokes Celestino Fernandez, director of undergraduate studies at the University of Arizona, who is continuing to plan for bigger and better future Meet Yourself festivals.
"We're going to look to the future. We have grown so much," Fernandez tells Arizona Illustrated.
This year's Tucson Meet Yourself starts October 14.