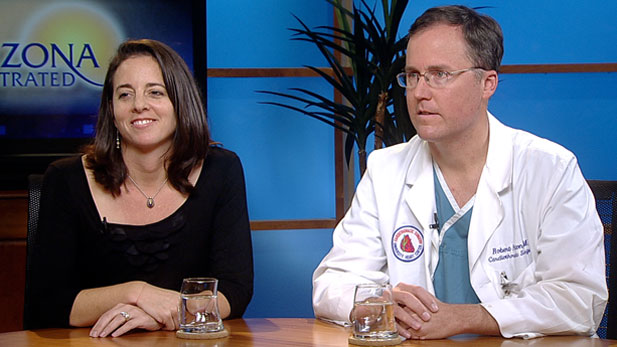 PHOTO: AZPM
Heart specialists Molly Szerlip (left) and Robert Poston (right) are developing robot-assisted heart bypass surgery at UMC.
Many patients facing heart bypass surgery are daunted: the process can involve large incisions that heal slowly and present a greater risk of infection.
But with a little robotic help, a small team of specialists is offering a less invasive option that can send patients home--and allow them to heal--faster than the traditional approach.

Dr. Molly Szerlip, director of the University of Arizona Medical Center's Hybrid Coronary Program, and Dr. Robert Poston, UA chief of cardiovascular and thoracic surgery, join Arizona Illustrated to discuss their pioneering program and the importance, for heart patients, of knowing that alternative surgery options are available.