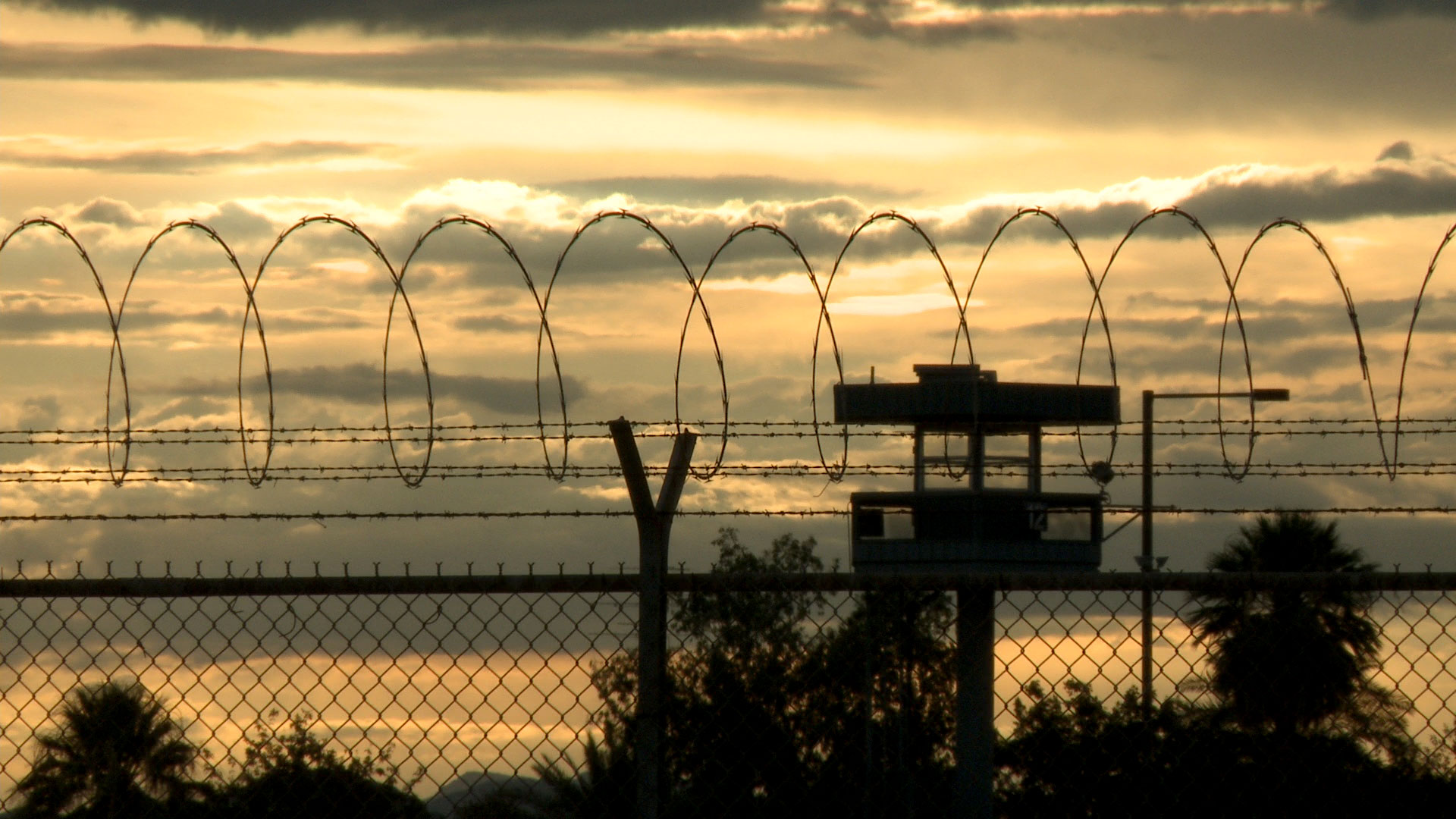 A watchtower seen in the distance at the Florence State Prison.
AZPM Staff
WASHINGTON – A federal appeals court upheld a contempt order and a $1.44 million fine against the Arizona Department of Corrections this week, saying the agency has been "deliberately indifferent" to health care for inmates.
The ruling by a three-judge panel of the 9th U.S. Circuit Court of Appeals is the latest in a 2012 class-action suit by prisoners that led to an agreement specifying how the department would improve health care for inmates.
But after years of "too-late … half-hearted" attempts to make improvements, a federal judge in 2018 found the state in contempt, and the appeals court affirmed that order Wednesday.
Timothy Berg, the lawyer who represented the state in the case, referred requests for comment on the ruling to Arizona Attorney General Mark Brnovich. His office, in turn, referred requests to the Corrections Department, where spokesman Bill Lamoreaux said that, "Improving health care delivery remains an ongoing priority."
"We are working with our health care contractor to meet this goal, and we will continue to engage with inmates, staff, families and partners in the community," Lamoreaux said in an email Thursday.
Prison rights advocates welcomed the ruling, saying that if change comes it will be because the department was ordered to and not because it wants to.
Corene Kendrick, a staff attorney at the Prison Law Office in Berkeley, California, said she hopes corrections officials realize they "need to actually implement changes to improve health care" now that "they have to follow the orders that are issued by a federal district court."
"We were confident that the court of appeals was going to reject the argument," said Kendrick, who represented the prisoners at circuit court arguments in September.
The case, Parsons v. Ryan, began in 2012 when 14 inmates filed suit over health care that was "grossly inadequate and subjects all prisoners to a substantial risk of harm, including unnecessary pain and suffering, preventable injury, amputation, disfigurement, and death."
"Critically ill prisoners have begged prison officials for treatment, only to be told 'be patient,' 'it's all in your head' or 'pray' to be cured," the original complaint said.
Donna Leone Hamm, executive director of the Tempe-based inmate advocacy group Middle Ground Prison Reform, said inmates in the state's prisons have "great difficulty in obtaining attention from medical providers beyond what they provide on-site."
"For a family member who has someone in prison with a serious medical condition, it's utterly frightening to think about the care that's afforded to them," Leone Hamm said.
Before that case could go to trial, however, the state agreed to a plan under which it would work to improve health care, would be monitored on 103 different measures of health care delivery, and would agree to a conflict resolution process. That process included an appeal to federal court if the two sides could not resolve an issue.
But by 2016, advocates charged that the state was not doing enough to make the private company that provided health care in prisons live up to the agreement. The shortcomings included proper diabetes monitoring, dental care, increased mental health treatment, outside cell time for those in solitary confinement, and more.
In 2017, U.S. Magistrate Judge David Duncan ordered the state to show cause why it should not be held in contempt for violating the agreement after repeated extensions of time, and why it should not be fined $1,000 for each complaint that it failed to meet an inmate's needs under the standards.
In June 2018, he issued a contempt ruling and fined the department $1.445 million for the 1,445 complaints recorded earlier that year. Duncan said the fines and order were needed because the state was not willing or able to prod the contractor to improve, noting its "repeated failed attempts, and too-late efforts, to take their obligation seriously."
"That goal of privatization cannot be achieved at the expense of the health and safety of the sick and acutely ill inmates," he wrote.
Among other problems, the contempt order noted that in reviews of 18 inmate deaths during one period, the department's Mortality Review Team said six "could have been prevented or delayed by more timely intervention" and there was a good chance that in eight "the patient's death was caused by or affected in a negative manner by health care personnel."
On appeal, the state argued that Duncan did not have the authority to impose the fines or hold the department in contempt and that he did not give it sufficient opportunity to defend itself, among other claims. The appeals panel flatly rejected those claims Wednesday and ordered the case back to U.S. District Judge Roslyn Silver, who took over after Duncan retired.
Maya Abela, an attorney with the Arizona Center for Disability Law who worked on the case, called the appeals court ruling "critical" because it "affirms the power of the district court to issue enforcement orders" and make the state live up to promises it made in the settlement agreement.
"The ball is now with the district court to decide how it will use the enforcement powers affirmed by the 9th Circuit," Abela said in an emailed statement.
Leone Hamm agreed that the ruling sends a "very strong message" but laments that it took so long.
"When you look at the sum of money that's been spent on this litigation since 2014 and think about what that money would have done had it been applied to legitimate professional inmate health care, it probably would have saved many lives," she said.
Kendrick said she is hopeful the ruling will "kind of be a green light to Judge Silver and to the district court that they can get going in making further orders, directing the department to do things, to live up to the promises they made in 2014."
---
For more stories from Cronkite News, visit cronkitenews.azpbs.org.