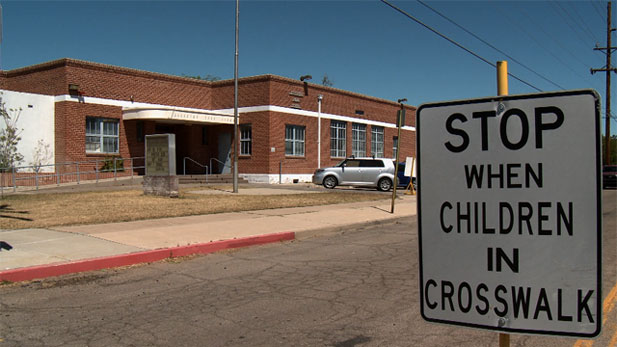 TUSD, Tucson's largest school district, has closed nine schools in recent years over declining enrollment, budget constraints. (PHOTO: AZPM)
Voters across Arizona will be asked Nov. 8 to approve spending for local school districts beyond what is allowed under state funding formulas.
Budget override elections, as they are called, will allow districts to continue levying a property tax to support funding levels that exceed the level supplied by the state by 10 percent to 15 percent.
The reason: state spending on education has been reduced sharply in each of the last three years, and now stands at the same level it was in 2006, Scottsdale Unified School District Superintendent David J. Peterson says.
"Across the state, the overrides are a life saver," Peterson says in an interview for Arizona Week. "If school districts did not have those and did not have the support of our local voters, we would be in terrible shape."
Scottsdale is not asking its voters to approve an override this year but will do so next year, Peterson says.
"We are reaching the point where we can't operate any more," he says. "It's really become a negative impact to our students and student achievement."
Among the Arizona districts seeking overrides are 20 in Maricopa County and six in Pima County, including the Sunnyside Unified School District in Tucson.
In Sunnyside, Governing Board member Eva Carrillo Dong says, the override helps supply the money needed to keep all-day kindergarten going. Without it, early childhood learning will suffer, she says.
"Our students and our families can't afford when they have their kindergarten cut to half a day, then go from there to a preschool or a day-care center," Dong says in an Arizona Week interview. Instead, she says, those children will go to the homes of aunts or grandparents, where they won't get much in the way of formal learning and certainly not access to technology.
In the Marana Unified School District, on the Tucson metro area's northwest side, funding emphasis has gone to keep class sizes small, Superintendent Doug Wilson says in an Arizona Week interview. And that is where the emphasis will stay with reauthorization of an override worth $6.4 million to the district, he says.
Without it, class size could go up between three and five students per classroom, and 65 to 70 teachers could be laid off, Wilson says. Class sizes in kindergarten and first grade now average 21 or 22, third to fifth grades come in at 25, and higher grades can have 30 to 35 students in a class.
"The smaller the class size, when we have kindergarten, first and second graders, the more we have an impact on those students," Wilson says. "If we can't build a foundational level, we'll see that later on. So at the primary grade levels, we want to keep that as small as possible."
Reporter Michael Chihak further explores the issues of school financing and budget overrides in the October 28 issue of Arizona Week. Watch now:
We look at budget override requests in more than two dozen school districts and interviews with Scottsdale Unified School District Superintendent, David Peterson, AZ Capitol Times, Caitlin Coakley Beckner and Governing Board Member of Sunnyside High School, Eva Carrillo Dong. (VIDEO: AZPM)