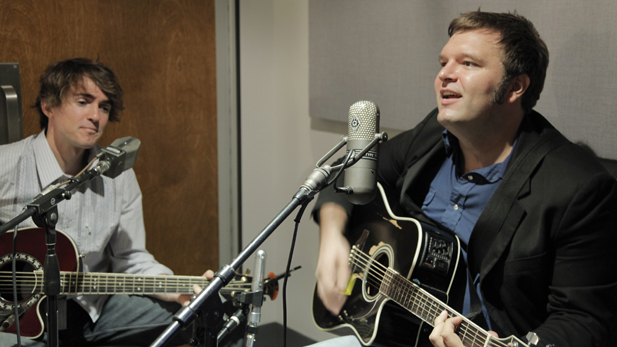 Guitarists and vocalists Ryan Green and Cameron Hood are Ryanhood (PHOTO: Yael Hendel)
The two guys who make up the acoustic group Ryanhood seem to enjoy the confusion that their name creates. They've seen themselves billed as if they were one person named "Ryan Hood", and people sometimes confuse it with "Robin Hood", but as long as those people give their music a try, Ryan Green and Cameron Hood don't really mind.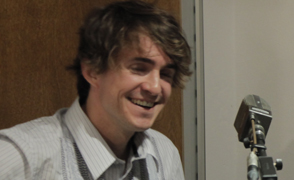 Ryan Green in the AZPM Radio Studio (PHOTO: Yael Hendel)
Both share songwriting duties in the group, with Ryan taking the role of lead guitarist and Cameron singing more leads. Their years of hard work busking and street performing are paying off with the release of their newest CD, an album called After Night Came Sun, which is their fourth album to date.
They'll be celebrating the its release with a concert at The Rialto Theatre in downtown Tucson on Friday, November 4th, joined by special guests The Silver Thread Trio.
Listen: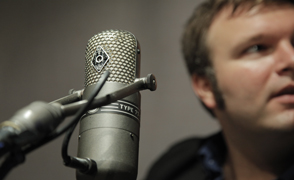 A vintage ribbon mic is used to record Cameron Hood's vocals in the AZPM Radio Studio (PHOTO: Yael Hendel)
And, here is an exclusive bonus track recording during Ryanhood's Spotlight Session, called "Around The Sun":
Music for the Spotlight Sessions is recorded and mixed by Jim Blackwood in the Arizona Public Media Radio Studio.