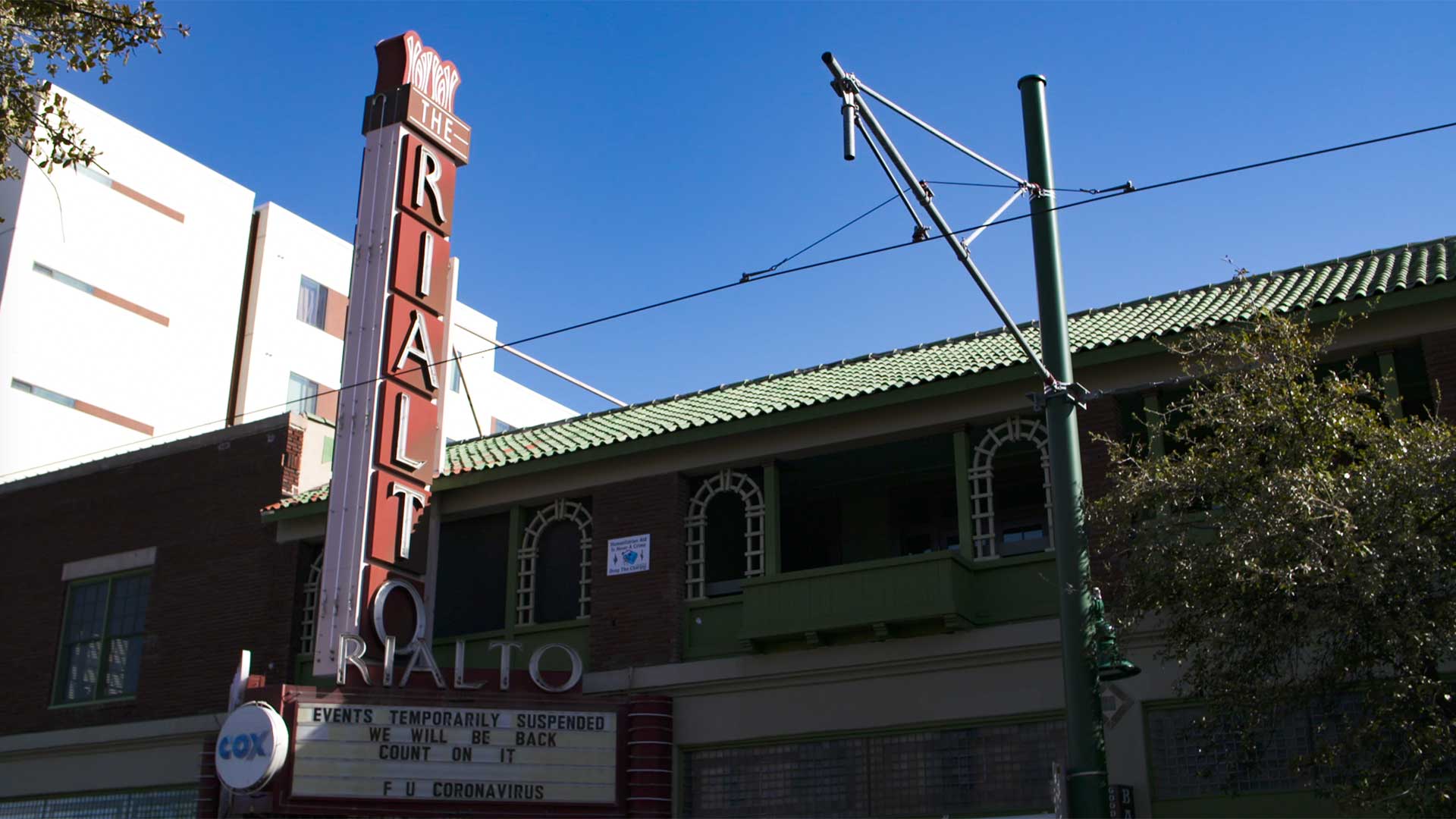 The Rialto Theatre on March 17, when Tucson declared a local emergency in response to the COVID-19 pandemic.
Andrew Brown/AZPM
Tucson Mayor Regina Romero declared an emergency Tuesday afternoon, shutting down dine-in restaurants, bars, theaters, gyms, and other places large groups can gather. Romero signed the proclamation just after 1 p.m.
At Tuesday night's meeting of the mayor and council she told members the decision was "painful"
"All of the actions the city has taken today are for the purpose of protecting Tucsonans and saving lives," Romero said.
She did stress the restaurants that offer takeout, delivery or drive-through are still allowed to operate.
At the meeting, officials with the Pima County Department of Health said 11 COVID-19 test results were still pending. They did not say how many people in the county had been tested.
The city's actions extend beyond closing recreational gathering places. Officials closed City Hall and ward offices to the public. Signs with phone numbers and web sites will be placed on the doors of city offices so the public will know how to get help.
The Tucson Police Department is also trying to reduce the number of in-person interactions it has with the community.

"If you need emergency police assistance, we want anybody in the community to call 911. Your call is going to be prioritized and help is going to be provided as quickly as possible," TPD Chief Chris Magnus told the mayor and council.
Magnus said for non-emergencies the public should fill out police reports online or call the non-emergency number. He also said if someone is in doubt, call 911 and the call will be directed to the appropriate person.
Changes to transit service were also announced at the meeting. City Manager Mike Ortega said bus riders will not be allowed to sit next to one another and the first few seats will be blocked off to give the driver social distance.

Ortega also said the city may change the Sun Link street car to the summer schedule since all University of Arizona classes are now online through the rest of the semester.
The city manager also put a hiring freeze in place except for fire fighters, law enforcement, and emergency dispatchers. He said the hiring freeze will remain until " we have an understanding of some of the impacts."
City officials expect to work off a restricted budget until the emergency is declared over.